Bristol-headquartered law firm Burges Salmon has advised longstanding client FirstGroup on the sale of London operations of its UK Bus division, allowing the transport operator to focus on areas offering the greatest potential for growth.
Five bus depots – at Alperton, Greenford, Hayes, Uxbridge and Willesden Junction – along with 494 vehicles and around 1,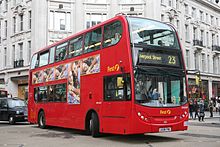 700 employees will transfer to Metroline in a £57.5m deal. Metroline, a wholly-owned subsidiary of Singapore-incorporated transportation company Comfort DelGro Corporation, already operates buses in the London area.
A further three bus depots – Atlas Road, Lea Interchange and Westbourne Park – along with around 400 vehicles and 1,500 employees, will transfer to Australian transport operator Transit Systems Group for £21.3m.
Both disposals are subject to regulatory approval including contractual obligations with Transport for London.
First UK Bus managing director Giles Fearnley said: "The sale of these operations marks further progress in our programme to reposition our UK Bus portfolio, recover performance and equip the business to achieve sustainable revenue and patronage growth.
"Our strategy is to focus on those areas of the country which offer the greatest potential and while we have been a key operator in London for many years, our focus going forward is on the deregulated market outside of the capital."
A 15-strong team at Burges Salmon, led by Rupert Weston and Ed Barratt, have worked on the transactions.
As well as corporate lawyers Tim Roberts, Gillian Saunderson, Richard Alexander and Ashley Crathern, the team also included specialist advisers on tax, pensions and UK bus regulations. Sandra Forbes led a finance team made up of Katie Allen, Alistair Rattray, Elin Blundell and Richard Clark which dealt with the transfer of numerous bus operating leases held with a number of different financial institutions.
Rupert Weston said: "This was a highly-complex piece of work involving two separate cross-border transactions each of which had to be co-ordinated and completed within tight deadlines across three time zones.
"We were able to draw on the strength and breadth of the Burges Salmon team by combining our technical expertise with in-depth knowledge and experience of the regulations governing bus services in London. We are delighted once again to have been part of the FirstGroup team ensuring delivery of their strategic aims."
Other legal advisers involved were Eversheds, who acted for the Transit Systems Group, and Teacher Stern, who advised Comfort DelGro Corporation.