Bristol Junior Chamber has kicked off its 75th anniversary year with its first-ever all-female leadership team.
The group was founded in 1948 to promote trade, commerce and industry in the city and provide its members with professional networking and skills development opportunities. 

Since then it has been involved in a number of significant projects in Bristol, including founding the world-renowned Bristol International Balloon Fiesta in 1978 and the Bristol Heritage Walk in 1984.
Today, it has a membership of more than 150 young professionals spanning a wide range of industries, including financial services, law, charity, marketing and communications, and consulting.
Bristol Junior Chamber (BJC) also to supports the agenda of Business West and Bristol Chamber of Commerce.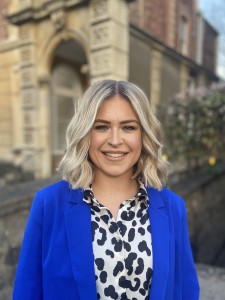 Now the networking organisation begins its 75th anniversary year with Georgia Corp, Emma Carter and Kate Woosnam at its helm following its annual general meeting when a new president and council of management took up their roles for the 2023-2024 year.
Georgia Corp, pictured, a senior account manager at Bristol content and copywriting agency Stratton Craig, becomes president, while Emma Carter, head of income generation at Air Ambulances UK, was appointed to the role of vice president.
Kate Woosnam, an associate at Bristol employment law and people management consultancy Ibex Gale Associate and outgoing BJC president, becomes immediate past president.
A new council of management – a nominated team appointed every year to help with the smooth running of the organisation – also took up their roles at the AGM.
Catherine Harris, corporate responsibility advisor for climate at AXA UK, was also appointed to the role of company secretary. With Georgia, Emma, Kate and Catherine in post, the BJC's directorship is now 80% female.
Sam Mitchell, the fifth director, will stay on as treasurer for the second year running.
Georgia said: "I joined Bristol Junior Chamber in 2019 and over the past four years the organisation has provided me with so many opportunities for personal and professional development.
"I'm more than excited to now be taking on the role of president, and it's an honour to do so during its 75th anniversary year.
"Since its inception in 1948, the organisation has established significant standing in the city and we're proud to have the backing of so many Bristol businesses.
"I'm looking forward to building on these connections in the business community as well as supporting the conduit to employers that our members provide, for wider city initiatives and knowledge-sharing opportunities."
Recent high-profile guest speakers at the BJC's monthly member meetings have included Marti Burgess, partner in the Bristol office of law firm Bevan Brittan, Poku Pipim Osei, CEO and founder of Bristol youth empowerment social enterprise Babbasa, and Prof Sarah George, head of research at Bristol Heart Institute.