Bristol's three business improvement districts (BIDs) are encouraging city centre businesses to sign up to a new gift card initiative designed to strengthen the area's post-pandemic recovery.
Bristol City Centre, Redcliffe & Temple and Broadmead BIDs are co-ordinating the launch of the Love Bristol Gift Card, with all sizes and types of businesses eligible to join for free.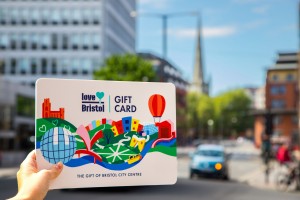 The card is part of the award-winning Town & City Gift Card programme from fintech Miconex, with similar programs running in a number of UK cities, including Aberdeen, Belfast and York.
It is available to buy online, in either physical or digital format, making it a potential gift for anyone who visits, lives or works in Bristol.
By working through the Mastercard network, businesses in the retail, hospitality, leisure, health and beauty, accommodation and services sectors can register to accept the card as an additional payment method – with no extra equipment required.
Miconex managing director Colin Munro said he believed the potential for the Love Bristol Gift Card was huge.
"Aberdeen sold over £220,000 gift cards in their first year," he said. "York onboarded 300 businesses making it the biggest local gift card in the UK.
"Belfast brought together three BIDs and generated over £188,000 of sales since 2020 to directly benefit city centre businesses.
"Bristol can build on these successes and create a unique programme for Bristol city centre.
"People typically spend 65% more when they use a gift card and 50% discover new businesses as a result. I encourage all Bristol city centre businesses to get involved."
To help the BIDs launch the card, the team has collaborated with UWE's summer undergraduate internship scheme to recruit a final-year student to support with marketing and businesses engagement.
Redcliffe & Temple BID head Steve Bluff said: "Now is the right time to launch a gift card for Bristol city centre.
"As we come out of the pandemic, the gift card is an opportunity for our businesses to get behind a program that will keep spend local and further enhance recovery efforts across the city.
"Any business that accepts Mastercard within our BID boundaries can join – even if they are not BID levy payers."
The Love Bristol Gift Card will feature illustrations depicting iconic Bristol landmarks – from Bristol Shopping Quarter to Park Street and a nod to Bristol City Centre BID's 2020 and the 2021 Hearts in Parks campaign when hundreds of socially distanced hearts were painted in the city's parks for the public to use and enjoy.
Steve believes the new gift card will drive local spend, tourism and corporate gifting:
"40% of people have purchased a gift card over the past three years, with a similar percentage receiving at least one gift card as a reward from their workplace," he added.
"We're meeting that demand for consumer and corporate gift cards with a new local option. There is also a huge opportunity to use the Love Bristol Gift Card to drive tourism, and for different demographics, such as our student population."
Marketing manager for the BIDs, Beth Betts, added: "Bristol is a digital city, so it was important that we made our new gift card digitally enabled too.
"This option gives customers the opportunity to send a gift instantly from anywhere in the world and is a great choice for employers who prefer sustainable staff incentives which keeps spend local.
"Whether people choose a physical or digital card, the benefit will stay here in Bristol."
Beth said the placemaking initiatives also aimed to contribute towards a vibrant and successful city.
"There is strong evidence of the economic benefit of local gift card programmes that we can emulate with our Love Bristol Gift Card, providing tangible support for city centre businesses and generating significant spend," she added.
Bristol city centre businesses can register for the programme by visiting: https://bit.ly/LoveBristolGiftCard or emailing: supportuk@mi-cnx.com
Love Bristol Giftcard photo, top, courtesy of Julian Preece Photography