Bristol's new Clean Air Zone comes into effect on Monday and firms are being encouraged to check if their vehicles will be charged to enter it.
The zone aims to improve air quality in the city centre and help protect the health of people by reducing harmful air pollution.
Nearly three quarters of vehicles travelling into the zone are already clean enough and will not need to pay.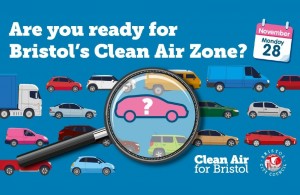 Support is available to help businesses upgrade to cleaner vehicles and encourage sustainable travel.
While no vehicles will be banned from entering the zone, older and more polluting vehicles will have to pay a daily charge to drive through the city centre.
Businesses can check on this government site whether they will need to pay.
Firms can quickly check multiple vehicles by uploading a spreadsheet of the registration numbers of all the vehicles they own and set up a business account to manage payments for multiple fleet vehicles.
The zone will be in operation 24 hours a day, seven days a week and the daily charge will run from midnight to midnight. Vehicle owners can pay online or by phone six days before and six days after entering the zone.
Drivers employed by businesses will not be notified if they have driven in the zone – it is a business's responsibility to pay any charges for vehicles they own.
A detailed map is available on Bristol City Council's website to help plan journeys: www.bristol.gov.uk/cleanairzone.
Support for businesses includes:
Clean Air Zone financial support. These are grants and loans are available to help businesses that need to replace vehicles that will be charged in Bristol's Clean Air Zone. You could get support of up to £2,000 per car, up to £6,000 per van and up to £16,000 per heavy goods vehicle. Financial support is available to businesses that drive regularly in the zone. Find out more here
50% match funded travel grants. A match funded grant of up to £20,000 for your business. Funding can be used towards improving sustainable transport provision in the workplace. Previous grant recipients have used the funding to install secure cycle storage, purchase business pool bikes and install electric vehicle charge points. Find out more here
Fully funded small travel grants. These are small grants up to the value of £250. Some ideas for small grants include organising a bike or walk breakfast or purchasing prizes to run your own active travel challenge. Find out more here