Bristol-based Perceptual Robotics, which uses autonomous drones backed by artificial intelligence (AI) to help cut the cost of maintaining wind turbines, has closed its largest funding round so far.
The latest investor to back the innovative firm is Susten, a London-based backer of sustainable energy projects.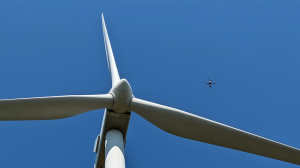 The deal means Perceptual Robotics can maintain its rapid expansion into new regions across the globe while also targeting new sectors.
It announced it April it had £2.7m from a consortium of investors. At the time it said it would use the funding to expand into North and Latin America and double the size of its team after securing its largest-ever investment.
Perceptual Robotics was launched in 2016 by Kostas Karachalios, Dimitris Nikolaidis and Kevin Driscoll-Lind – now CEO, chief operating officer and chief technical officer respectively – after they met at the University of Bristol.
Its Dhalion drone and AI enables fully automated and rapid inspection of wind turbine blades using AI-driven image processing technology that detects any damage such as erosion or cracks in less than 20 minutes.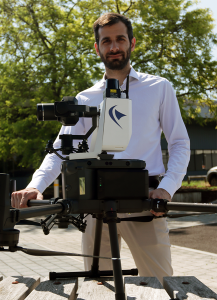 After landing, an artificial intelligence system automatically processes the images to detect any damage and quickly provides clients with all the information they need to carry out preventive maintenance, dramatically reducing turbine downtime, increasing safety and cutting costs.
Perceptual Robotics has grown rapidly following a number of successful funding rounds.
Last year Perceptual Robotics raised £1.6m in a funding round which enabled it to launch operations in South East Asia.
Investors in the latest round were led by Cambridge-based OnePlanetCapital and included L-Stone Capital together with a renewed investment by existing investors Brookstreet, Deeptech Labs, TSP Ventures and Metavallon VC.
In addition to the funding from Susten – details of which have not been disclosed – Susten deputy CEO Chrys Vakla is to join its board, bringing a further strategic perspective to the company. It said her experience and industry understanding would support its technological advances to push the boundaries of robotics and automation.
Chrys Vaklam said: "After a deep dive into robotic services in the renewable sector by Susten, we identified Perceptual Robotics as the leading company due to its advanced technology and an exceptionally skilled and motivated team.
"I am delighted to join the Board at Perceptual Robotics and I am confident that together we will continue to grow."
Perceptual Robotics CEO Kostas Karachalios, pictured, added: "We are delighted to bring Susten onboard, which will further enhance our work, allowing us to continue to grow as a business.
"The investment will enhance our company's aims by further expanding our talented team and support with our expansion into new markets."