A newly formed company is aiming to revolutionise the way vaccines are stored and transported by producing technology that allows them to be safely used without being kept in a fridge or deep freeze.
EnsiliTech, which is about to move to Bristol having spun out from the University of Bath, aims to have its ground-breaking technology on the market within the next few years and bring to an end a problem that means in many cases up to half of vaccine doses supplied to hot countries have to be thrown away.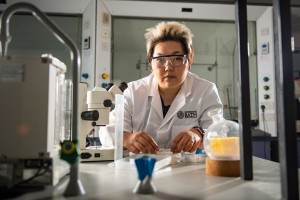 The firm has been launched this week by a Chemistry researcher Dr Asel Sartbaeva and her team at the university.
Dr Asel Sartbaeva, pictured, who is EnsiliTech's CEO, has spent the past decade working on a technique known as ensilication that aims to prevent vaccines from 'spoiling', even after they've been out of a fridge for up to three years.
Her technique involves encasing the vaccine's active protein in a silica shell (simple sand) which keeps the structure intact whether the formulation is stored at room temperature or heated to 100°C.
Vaccines are notoriously difficult to transport to remote or dangerous places as they generally degrade when they are left out of a fridge or deep freeze. Vaccines using new RNA technology, such as the Covid-19 Pfizer-BioNTech vaccine, need to be kept at extremely low temperatures.
At 8°C or above, most vaccine proteins unravel fast, making the medication both unsafe and ineffective.
When vaccines are sent to low or middle-income countries, the 'cold chain' transportation process often fails at some point between vaccine manufacture and endpoint destination.
As a result, 50% of vaccine doses are discarded and millions of children around the world miss out on life-saving inoculations.
Dr Sartbaeva said: "This is a huge problem, and one we've set out to solve. EnsiliTech is a wonderful opportunity for us to concentrate on what we've been promising and bring our vision to life." 
She hopes EnsiliTech's technology will one day be adopted to store and transport all childhood vaccines, as well as other protein-based products, such as therapeutic antibodies, diagnostic proteins – including those used in lateral flow tests – and animal vaccines.
EnsiliTech is starting life in Dr Sartbaeva's lab at the University of Bath but will soon move to Bristol's Unit DX science incubator, pictured, which opened in St Philips nearly five years ago to offer much-needed laboratory space and mentoring to small firms in the city's burgeoning biotech sector.
Previously, many of these businesses would have been forced to relocate to cities such as Oxford or Cambridge. 
Dr Sartbaeva added: "Our initial focus will be on oral animal vaccines, and we're hopeful that we'll have a finished product within two years.
"After that, our full attention will be on human vaccines, antibodies and diagnostic proteins."
Dr Sartbaeva's research was funded through Innovate UK's ICURe (Innovation to Commercialisation of University Research) programme, an initiative aimed at research teams from UK universities with commercially promising ideas.
The technology's commercialisation and subsequent spin-out of EnsiliTech have been supported by the University of Bath's Technology Transfer team and its Research and Innovation Services.