A Community Interest Company on a mission to improve the lives of neurodivergent people in the Bristol area is the winner of the inaugural Micro Business Incubator Hub Competition staged by city-based creative business collective Istoria Group.
Self Agency was founded by Devon Lowndes, pictured, with a vision is to make Bristol the neurodiversity city in the UK.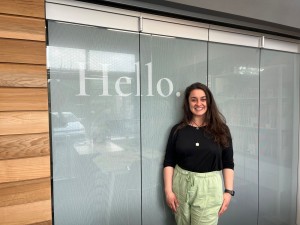 It offers organisational neurodiversity cultural development and neurodivergent community building, with Devon on a mission to educate people about neurodiversity and to further her vision of everyone embracing every mind equally and realising the positive impact an all-inclusive environment can have on individuals, communities and businesses.
She advises organisations on best practice and is working with Bristol City Council as their sole neurodiversity champion.

Istoria Group launched the competition in March to find a women-owned micro business with exceptional growth potential to support as part of its incubator hub programme.
The move was inspired by an article on the International Women's Day's 2022 website which noted how often women have a particular gift for spotting opportunity-based gaps in the market for products and services. 
However, due to a lack of capital as a result of gender and other biases – they usually have to start small.
Self Agency will now receive rent-free office space for up to four people for six months at Istoria's Paintworks base, along with a raft of creative services, including a brand review by the group's design agency Phoenix Wharf and a website build by its digital transformation experts Tiny Spark.
Istoria Group CEO Sam Rowe, pictured above, left, with Devon and Istoria Group CMO Lindie Kramers, said: ''We received a fantastic set of entries and were inspired by the number of amazing women out there fighting for social progress and to diminish inequality.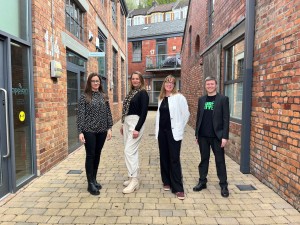 "We picked four finalists, all of whom were highly deserving, but in the end it was Devon Lowndes who stood out because of the clarity of her vision, her commitment and ambition. 
Pictured, the contest judges. From left: Sam Rowe, Lindie Kramers, University of Bristol Senior Lecturer in Entrepreneurship Cecilia Thirlway and Babbasa head of development Matt Rogers 
"I am quite sure that as well as helping Devon move forward, we will also learn a great deal ourselves in the process, with that knowledge also going on to benefit our agencies and our work across the board." 
Devon added: ''I'm absolutely thrilled to have won, especially having met the other great finalists at the announcement ceremony.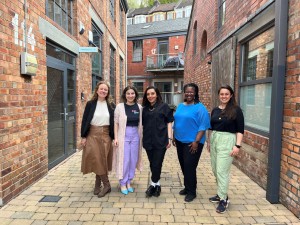 "For me, one of the best things about Istoria Group's Incubator Hub programme is how accessible it was to apply for as a person with ADHD.
"I could tell at once it was a friendly and accessible organisation with a really open outlook. I know it'll be an environment that offers trust and flexibility, as well as creative and business expertise. I can't wait to be part of it."
To better target its search and spread the word to make sure the competition offer reached as diverse and inclusive an audience as possible, Istoria worked with Black South West Network (BSWN) and Bristol-based youth empowerment organisation Babbasa.
The three other finalists were:
Better Together. Founder Angela Loveridge, pictured above, fourth left, helps parents keep children safe online by signposting them towards practical tools, techniques and resources, facilitating safe spaces for those awkward safety conversations and coaching parents so they are empowered to respond, not react, in a way that will keep channels of communication open and permit constructive conversations
Bristol Achieve. Founded by Hetty Brown, pictured above, left, Bristol Achieve recognises that one of the biggest problems facing British schools is the gap between rich and poor and its subsequent effects on educational attainment and social mobility.
Sassy Sisters Studio. Nicoleta Moldovan and Begumhan Girgin, pictured above, second and third left, have founded a new creative agency offering graphic design services, advertising and marketing, motion graphics, packaging design, publications and typographic design.