Bristol-based One Big Circle, which uses Artificial Intelligence to clean up the country's railways, is on track for further expansion after expanding into a new office.
The firm, which now boasts 35 employees, has acquired additional office and lab space in the iconic Temple Studios – appropriately next to Bristol Temple Meads railway station.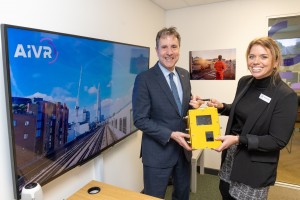 Launched six years ago in the nearby Engine Shed innovation hub by a team of four tech experts and Bristol University alumni, the firm has since worked with Network Rail on a series of major projects.
These include deploying One Big Circle's tech across 20,000 miles of track. The firm's pioneering small 'smart capture' devices are mounted on the front of trains to provide high-definition 'train and track-view' video.
This huge quantity of footage is then analysed at speed by AI to spot hazards such as scrap rail, which is then mapped using GPS, ready for train maintenance teams to safely remove.
Co-founder and director Emily Kent, pictured with West of England Metro Mayor Dan Norris, said the firm's technology was important both in terms of reducing disruption for passengers caused by rail teams needing to make urgent maintenance repairs – by 'spotting a problem before there is a problem' – and because slips, trips and falls are one of the largest causes of injury for train workers.
One Big Circle is now trialling its tech across the European rail network.
The firm's new HQ was officially opened by West of England Metro Mayor Dan Norris, who said: "We hear a lot about AI at the moment. How it can be used for good or evil.
"Here we can see a great application of a new technology that has the potential to really improve public services.
"The skill and innovation at One Big Circle is keeping the West of England and the rest of the country on track."