BAFTA award-winning creative film and digital production company BDH has relocated to new studio space at Bristol's Finzels Reach development – the latest firm to move to what is fast-becoming a new business hub for the city.
BDH, which has been based in Clifton for 20 years, has taken over the ground level studio in the historic Malt House building – originally part of the brewery that occupied the high-profile site until the 1990s.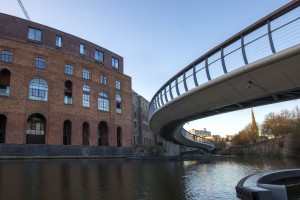 BDH's team of 20 filmmakers, designers, digital artists and producers have transformed the ground-floor space into a creative hub and new home for the company.
BDH, which won a BAFTA in 2018 for Best Titles and Graphic Identity for Blue Planet II and is also known as Burrell Durrant Hifle Design & Direction, acquired the 1,900 sq ft studio from Finzels Reach developer Cubex.
The firm's production manager Pic Haywood said: "We began looking for a new location and immediately fell in love with the space in the Malt House and the vibe of Finzels Reach. There is a really lovely buzz about the area and its closeness to the beautiful waterfront and the city centre make it a fantastic place to work.
"When we saw the space was available to buy, we knew we had to have it. It was the perfect size for us to create the studio space that we wanted and really make it our own. Everyone in the team has been very enthusiastic about the move and we're enjoying settling into this new neighbourhood.
"We've settled in really well and the open plan studio is making it easier and more efficient to work together. The clients that we've invited to the new studio have all said how much they like it and we've even got a dedicated corner for the office dogs – so everyone is happy."
Bristol-based Cubex is developing Finzels Reach as a flourishing new quarter of the city with around 2,500 people living and working there by the end of this year. When the Courage Brewery on the site closed in the 1990s just a handful of people were working there.
It is creating unique office space for creative and media businesses on the first and second floors of the Fermentation Buildings – also part of its rich brewing history – while the new cutting-edge Aurora office building has been recognised for its outstanding green credentials and is now almost entirely let.
BDH's move follows the arrival of software development specialist Amdaris, which moved into Studio A at Aurora and paved the way for the creation of a creative and technology business hub.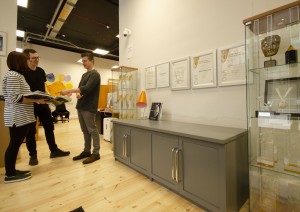 Other businesses that have relocated to Aurora are financial services firm Parmenion – part of Aberdeen Standard Investments – professional recruitment and consulting specialist Experis, law firm Simmons & Simmons and intellectual property specialist Mewburn Ellis are all based within
Finzels Reach also boasts a new Spicer+Cole café and a weekly food market while Bristol craft brewer Left Handed Giant is to open a new brewpub and brewery this summer alongside a new restaurant by Peter Sanchez-Iglesias of Bristol Michelin star restaurant Casamia.
Cubex executive director Gavin Bridge said: "We're thrilled that BDH has chosen to move to Finzels Reach, helping to bring this area to life as a thriving business hub in the heart of the city.
"This area is fast becoming an exciting place to work, live and relax, and it's wonderful to see the way people have already embraced this new quarter. We expect to have some more exciting new announcements to make soon."
Finzels Reach's first phase, which is nearly complete, includes 440 apartments, 240,000 sq ft of office space including two Grade A office buildings, a 168-bedroom Premier Inn, plus cafes, restaurants and a microbrewery across 30,000 sq ft of space.
The second phase is planned for the former fire station site on the opposite side of Passage Street and incorporates a 116,000 sq ft Grade A office building, together with more than 300 homes for the rental market.