Bristol haulage firm Wrings Transport celebrates a quarter of a century of trading this year with investment in its fleet as it looks to grow over the next 12 months.
The firm, based in Hallen, has secured a six-figure funding package from Lombard Asset Finance to buy a limited-edition Mercedes-Benz truck, which it has now added to its 60-strong fleet.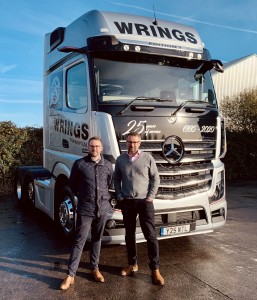 The high-spec truck, one of only 35 in the UK, puts the firm on the road to further grow its customer base nationally this year.
Wrings had one of its most successful years in 2019, increasing annual turnover from £6.9m to £7.5m
The family-run business has its roots in Bristol, having been first set up in 1927 by Sidney Joseph Wring, who delivered coal to hospitals and schools around the city with a horse and cart.
The company closed down in the late 1960s after Sidney's death – but in 1995 his grandson Stuart set up Wrings Transport in its current form.
Managing director Stuart said: "We've just had our best year in terms of turnover and profit and 2020 is looking even better still.
"Our 25th anniversary couldn't come at a better time, and it's great that Lombard Asset Finance has helped us mark the occasion with a state-of-the-art, limited-edition truck. We've added a silver emblem on the side door and a plaque on the front grill to commemorate this special anniversary."
The deal was managed by Lombard Asset Finance senior relationship manager Ed Willis.
He said: "It's been a pleasure supporting a family-run business like Wrings Transport. The company has an impressive track record of generating year-on-year sustainable growth, a credit to Stuart and the team. I am sure they will all enjoy celebrating their 25th anniversary and I wish Wrings the very best for the future."
Pictured, from left: Ed Willis and Stuart Wrings