Global real estate services group Cushman & Wakefield has appointed Anthony Martin as partner to head its Bristol-based valuation team.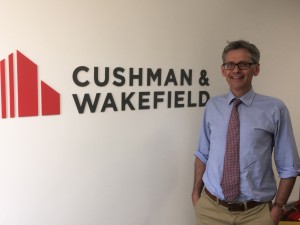 Anthony, pictured, brings 35 years of experience. He joins from Bruton Knowles' Gloucester office, where he was head of valuation. Prior to that, he held senior positions at Cluttons' London West End office and at Chesterton. 
In his new role, Anthony will be using his experience in general practice and valuation to advise a range of diverse clients including banks, funds, property companies and government bodies.
He said: "Cushman & Wakefield's valuation team is well-known for its industry-leading service and I am looking forward to working with the well-established Bristol team to capitalise on market-led opportunities and develop stronger links with businesses across the South West region."
Head of Cushman & Wakefield's Bristol office Tim Davis added: "We are delighted to have someone of Anthony's calibre and experience joining our team. He brings unrivalled valuation experience as well as a drive to deliver a 'best-in-class' client-focused service."
Cushman & Wakefield employs around 45,000 people in 12 UK offices and in more than 70 countries across the world.