Bristol-based independent digital marketing agency Flourish has made a key appointment to its senior leadership team to strengthen its capabilities and future-proof its offering to its clients.
Rob Manley, pictured, joins as technical director to lead its delivery of CRM (customer relationship management) programmes across its client portfolio.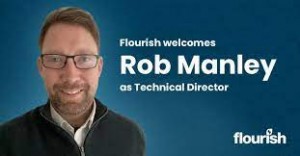 His responsibilities will include overseeing the adoption and development of CRM optimisation for clients across a range of sectors and platforms, while also leading the way for maximising return on investment from multichannel CRM programmes and strategic opportunities for clients.
Rob previously worked for Yeovil-based trade tools retailer Screwfix, where he was campaign execution manager for nearly four years, and Somerset shoe brand Clarks, where he spent more than five years.
Flourish said he brought with him experience of largescale CRM and loyalty programmes, including complex CRM platform migrations, as well as technical campaign deliveries and optimisation of customer journeys from his time 'client-side' at both Screwfix and Clarks.
His arrival comes at a pivotal time for Flourish, also has an office in Dubai, as it takes on new clients and CRM challenges.
Managing director Ian Reeves said: "We are very excited to welcome Rob and his vast CRM platform knowledge to the Flourish family.
"The wealth of 'hands-on' experience he brings, particularly around platform migration, adds huge value for our clients and our in-house teams.
"His appointment will allow us continue leading the way in the innovative use of CRM tools and data driven, insight led campaigns."
Flourish works with a range of tech clients to deliver data-driven customer journeys to optimise, elevate and ultimately transform their CRM.
Last November it topped the Email Marketing category at the Performance Marketing World Awards for its work with consumer electronics brand Samsung on the launch of its Galaxy S22 phone.