Renewable energy specialist Solarsense has appointed a new commercial director as it looks to double turnover in a fast-growing market.
Ashley Wood, pictured, right with Solarsense MD Stephen Barrett, joins the firm, which was launched nearly 30 years ago, from the UK office of the global engineering company Osborn, where he worked for nearly 13 years, most of them as managing director.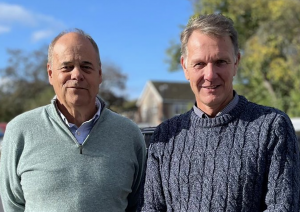 His arrival at Solarsense comes shortly after it moved to employee ownership status model, with founder Stephen Barrett putting in place a succession plan and a vision for the company's future and the people who worked for him ahead of a remunerative buy-out.
Ashley's role is to help him ensure that move is matched by growth and mastery in a market that is growing exponentially.
Based in a new head office and warehouse in Clevedon, Solarsense designs and installs PV systems – with up to 85% of the business now linked to the commercial roof market.
Its clients range from owners of factories and warehouses to council buildings, community halls and leisure centres, and in recent years have included Glastonbury Festival, household products firm Brabantia, the Duchy of Cornwall, UWE Bristol, the NHS, the RSPB, Tesco and socially conscious toiletries retailer Lush.
Rising electricity prices are also prompting more businesses to look at solar for energy security.
With just 5% of commercial roofs in the UK having PV installations, the firm sees a strong market opportunity – one reason why it switched to an Employee Ownership Trust (EOT) as this gives its growing team a stake in the company's future as well as its current success.
Stephen Barrett said: "We were looking for someone to join us on the path we've forged, in the EOT model we've created, and with the ambitions we share here.
"Ashley recognised and embraced that. He has clearly always been hands-on where he has worked and brings an enormous amount of expertise and financial insight to our table.
"He knows, as we do, that making money matters – that it fuels positive growth – but also has bought into our plan to be a force for good while creating a sustainable, strong livelihood for our team."
Ashley, who has also worked for ventilation systems manufacturer Brookvent and tech firm Telstra International, added: "In the current climate it's easy to put the focus on the number at the bottom right-hand side of the spread sheet.
"But if that becomes the only focus, businesses can end up serving investors or cutting costs and compromising what they set out to do.
"When I first sat down with Stephen I knew this was a different model. It felt dead on-target, combining corporate positivity with a clear plan for growth and a strong view on how everyone in the company can be a part of it.
"And you can see from the get-go how everyone is engaged and rewarded for their input. And their results – best ever half-year trading figures earlier this year – are stunning."