International law firm Simmons & Simmons is to relocate its Bristol base to a larger office as it looks for further expansion in the city. 
The firm said the move to the top two floors of the flagship Aurora building at Finzels Reach – which is still under construction – further demonstrated its commitment to Bristol. 
It also shows the strength of the city's legal and commercial property markets. Aurora, pictured, Bristol's only speculative office development, is now 40% pre-let months ahead of its completion this summer. With no other speculative offices being built in Bristol city centre at present, property agents are warning of a severe shortage of the type of prime space suitable for expanding professional services firms.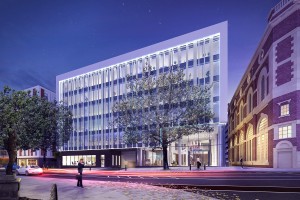 Simmons & Simmons, which opened its 16,000 sq ft Bristol office at Linear Park, Temple Quay, in 2012 with 12 fee earners and five business services staff, is the latest in a series of law firms in the city to expand into larger premises.
The firm has since added capital markets, corporate, ICT, employment & pensions, funds, financial services regulation, insurance and tax capabilities and has 74 fee earners and 79 business services staff.
Simmonds & Simmonds expects to move to Aurora in January next year, having signed a 12-year lease for 27,000 sq ft.
It described the move as a new chapter for the Bristol team who, working with their London colleagues as a single integrated UK practice, undertake premium work for premium clients in the firm's chosen sectors – both in the UK and internationally.
The move to Aurora will provide a modern and inspiring work environment to allow the firm to continue to attract and develop the best people in the legal industry the market has to offer.
Bristol office head and financial services partner Mahrie Webb, pictured, said: "Since opening our Bristol office we have attracted some of the brightest and best lawyers the market has to offer – but we see this as just the beginning.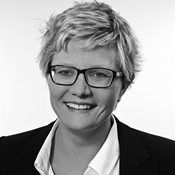 "If we are to continue to attract and retain high-quality people to do premium work for premium clients we will need an office environment and location that is modern, inspiring and suited for the way people wish to work now and in the future. I see this move as good news for our people and, therefore, good news for our clients."
Aurora is a 95,500 sq ft Grade A, LEED Gold standard development and the only building outside London – and one of only six in the UK – to achieve the BREEAM 'outstanding' award under the new, toughest rating scheme.
Key green features including rooftop mounted solar panels, intelligent LED lighting, water saving technology and an emphasis on creating a healthy working environment, with fresh air and plenty of natural light from the floor to ceiling glazing. There will be bicycle storage facilities, lockers and showers on site.
Cushman & Wakefield advised for Simmons & Simmons while Savills advised Cubex, the developer. Funding was provided by Palmer Capital.
Cubex director Peter Walford said: "We are thrilled that Simmons & Simmons will be moving to Aurora and that the building is now 40 per cent pre-let. This represents the second deal we have secured at Aurora, illustrating continued buoyant demand in the city for high calibre office space with outstanding environmental credentials and an important emphasis on staff well-being in the workplace.
"It is fantastic to see work continuing apace on Aurora and we expect to be announcing more deals in the near future as the building has attracted further serious interest recently."
Palmer Capital director Steven Wright added: "It is excellent news that Simmons & Simmons will be joining Aurora. This new Grade A office building for Bristol that will provide much-needed office space of the right quality in the right location in a city where there is currently very little supply, whilst setting a new standard in Bristol in terms of its sustainability credentials."  
It is the second deal secured by Cubex at Aurora. Last year intellectual property specialist Mewburn Ellis agreed to take 13,326 sq ft encompassing the building's first floor on a 15-year lease. It will move to Aurora from its current base at Queen Square to enable its future expansion.
South West law firm Foot Anstey last year expanded into a larger office at 2 Glass Wharf, Temple Quay, six years after opening its Bristol office with just 10 employees – a number that has now soared to 130.
Meanwhile, top three Bristol firm TLT's major refurbishment of its space at One Redcliff Street, which started just over a year ago, is due to be finished this summer.
The opening of a new 15th floor – an additional 10,000 sq ft storey which has been added to the 1960s building – means the firm will occupy 90,000 sq ft in total.