Bristol e-scooter specialist Pure Electric is on the road to further expansion after increasing its lending facility with its bank by £2.5m and closing its store network.
The firm was set up in 2018 by entrepreneur Adam Norris with a mission is to give every person living in an urban environment a better form of transport through its range of market-leading electric scooters and bikes.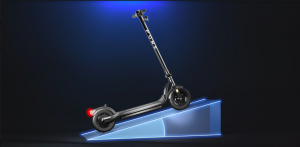 It became one of Europe's fastest growing e-bikes and e-scooter businesses, employing nearly 300 people across its 17 UK stores, a number of which included demonstration, service and repair centres.
Last year it opened in eight cities in France and Spain following the agreement of the inventory finance facility from Secure Trust Bank Commercial Finance.
However, last year it decided to wind down its store network and stop selling e-bikes to focus solely on selling e-scooters via its website and third-party retailers.
At the time the firm said: "We're always shifting gears to ensure we're set for the future of urban transport. By moving away from e-bike retail, we can focus our energy on leading the way in e-scooter innovation. For forward-thinking travel solutions – now and in the years ahead."
Now it has revved up its asset-based lending (ABL) facility with Secure Trust to the tune of £12.5m from £10m a year ago while also gradually closing its stores and ending sales of e-bikes.
It said access to the increased funds followed strong demand for its e-scooters across the UK and Europe. The facility will be used to finance product development while also providing additional working capital as it executes its new strategy.
It said Secure Trust's support would also drive forward the company's sustainability initiatives to reduce environmental impact and encourage the public to respond to the climate crisis by choosing greener transport methods.
Secure Trust head of Midlands and South West client management Mike Piggott said: "We have a close relationship with the team at Pure Electric and it has been great to see the business reach new heights over the past 10 months.
"We have been able to create a flexible finance facility that works to Pure Electric's needs, allowing us to increase funding as the company  implements its renewed strategy."
Pure Electric CFO Stephen Marshall added: "Pure Electric is continuing to make a significant positive impact on the planet, and we believe e-scooters are crucial to dramatically improving the lives of people living in cities across the world.
"With Secure Trust Bank's continued support in helping us grow, we're further able to enhance the lives of riders globally."