BRAVE Enterprise, the not-for-profit business advice organisation based in Bristol, is holding a series of training workshops during September for businesses looking to grow and those just starting out.
All are staged at The Coach House, 2 Upper York Street, Bristol BS2 8QN unless otherwise stated.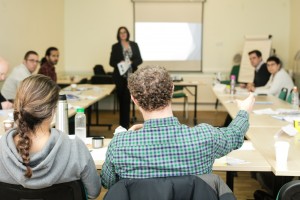 Courses include:
Starting In Business workshop
Date: September 20
Time: 10am – 4.30pm
This all-day workshop is for those who have thoroughly researched their business idea. It's all about preparation – preparing yourself, your finances and your business plan. You'll get expert advice and encouragement and be equipped with the tools to take your business idea from the drawing board to reality. It's also an excellent opportunity to talk to other new business starters and swap experiences and contacts.
Course content:
·                     Could you run your own business?
·                     Rules and regulations
·                     Financial forecasting
·                     Marketing
·                     Business planning
·                     Taxation and VAT
Using Social Media workshop
Date: September 21   
Time: 10am – 1pm
Venue: Armada House, Telephone Avenue, Bristol, BS1 4BQ.
This workshop is for anyone who wants to find out how to make Facebook and Twitter work better for their business and be more organised and strategic about their social media marketing. By the end of this seminar you will understand the possibilities of cost-effective content marketing channels and be better at promoting your business. You'll take away some tools and tips to make it easier to manage.
Introduction to Search Engine Optimisation
Date: September 21
Time: 2pm – 5pm
Venue: Armada House, Telephone Avenue, Bristol, BS1 4BQ.
If your website plays a key part to your business then this workshop will help you maximise its potential. It will equip you with the tools you need to make your site feature more highly in Google and other search engines. Don't worry if you're not technical! This course is for business people so techno-babble will be kept to an absolute minimum.
Planning for Business Growth
Date: September 27
Time: 10am – 1pm
This session is for existing business owners who have aspirations to grow their business. It creates some protected time for you to reflect on where you are now with your business and where you would like to be in future. You can then to start to develop a focused strategy to move your business in the right direction.
You'll learn some simple planning tools that you can use to identify what needs to change and how, without having to spend hours writing a traditional business plan. You will leave with the knowledge and tools to be able to build a business growth strategy and where applicable, to communicate the shape of the plan simply to others.
Course content:
·                     Mapping out your business journey: where you would like to go?
·                     What does the business destination look like?
·                     How will you be able to tell whether you're headed in the right direction?
·                     How can you get yourself there?
·                     Describing the shape of the planned journey
·                     Tracking progress and dealing with change
Sales Foundation workshop
Date: September 28
Time: 10am – 1pm
This workshop is for anyone looking to improve and develop their sales and business development skills. You will learn how to:
·                     Develop new sales from identifying markets, making initial contact and telemarketing
·                     Build a repeatable sales process
·                     Demonstrate new sales skills from questioning, relationship building, presenting, negotiating and closing
·                     Build, maintain and up and cross sell to existing customers
·                     Build a formidable range of business development skills and ideas
·                     Identify tools to use in the sales process
To book a place visit www.brave.org.uk/training/workshops or phone 0117 944 5330.