Bristol businesses are being urged to take part in a cutting-edge event for young people to highlight the skills and job opportunities available in an innovative low-carbon economy.
Called Your Green Future, it will feature industry thinkers and experts who will advise and inspire more than 400 secondary school students from across Bristol, South Gloucestershire and Bath and North East Somerset on developing a low carbon, sustainable future.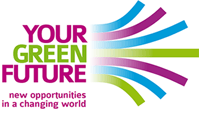 It will kick off with keynote talks from Juliet Davenport, founder and CEO of green energy supplier Good Energy, and director for corporate social responsibility at car maker Jaguar Land Rover, Jonathan Garrett.
There will also be a Dragons' Den-style workshop with students able to 'invest' in cutting-edge innovations including Airbus's Bristol-designed Sharklets wingtip devices which lower fuel burn on commercial jetliners.
Students will work with enterprising organisations, including Bristol-based Labour behind the Label and Fairtrade Network, to develop today's food and fashion items into products fit for 2025. In addition, they will work with energy experts to reduce future energy use.
Students will be able to seek advice on the wide range of job opportunities, including the skills needed and the pathways into work with a range of organisation, including National Apprenticeships Service and UWE.
The event takes place over two days – April 1 and 2 – at UWE and is staged by Gloucester-based charity Severn Wye Energy Agency, an independent charity and not-for-profit company which aims to promote sustainable energy and affordable warmth through partnership, awareness-raising, innovation and strategic action.
For more information, go to www.yourgreenfuture.org.uk