Bristol's year as European Green Capital officially ended this afternoon with a pledge by its key players to keep the city at the leading edge of sustainable business innovation.
A closing ceremony staged at Colston Hall looked back over Bristol's year in the green spotlight and at its legacy.
While a small number of protesters outside the venue demanded to know where some of the funding for the green capital had gone, the message inside was clear – the work to position Bristol at the forefront of green thinking in a wide range of areas would go on.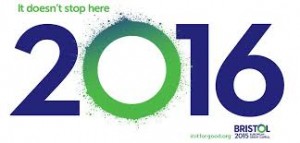 A poster campaign with the strapline 'It doesn't stop here' and featuring some of those who have pledged to change the city for the better has been launched to keep the pledge in the public eye.
While a major focus during 2015 was on community projects as well as a small number of high-profile cultural events, businesses have played a key role in getting the green message out.
Sponsors have included developer Skanska, accountancy firm KPMG and bus operator First.
Some 1,220 firms have signed up to the Go Green scheme, which helps businesses improve and demonstrate their green credentials.
Bristol Green Capital Partnership chair Liz Zeidler said: "Businesses in Bristol have really shown that they understand that this is about something bigger than just a year as green capital. They've shown that by becoming more sustainable they can engage better with their customers and their staff and also improve their bottom line.
"They have also shown that being more sustainable is about being innovative."
Catriona Tully of KPMG said being a sponsor had allowed the firm to demonstrate its environmental commitment to its staff and clients as well as helping put Bristol on the international map for its green approach to business.
2015 began with a pledge to show what's possible when people come together to make Bristol a better place. Energy, food, nature, transport and resources were earmarked as five key areas for special attention and, to help, the largest environmental fund of its kind awarded nearly £2 million to 187 projects throughout the city, introducing conversations about sustainability.
Other wide-reaching projects include an education programme which has already encouraged over 14,000 primary pupils from 74 Bristol schools to take forward the Green Capital baton, long after the city hands over the prestigious title
The campaign also attracted pledges and endorsement from a wide range of celebrities including chef and broadcaster Hugh Fearnley-Whittingstall, rock band Kaiser Chiefs, local football and rugby captains and Aardman's Shaun the Sheep.
Mayor George Ferguson said: "It's impossible to over-estimate the benefit that our year as European Green Capital has brought to Bristol. It was a proud moment to be able to describe the packed programme we have delivered during 2015 to a stellar international audience at the COP21 climate summit in Paris earlier this month, where Bristol played a starring role.
"We are now seen as a leader among environmental cities, with the potential and commitment to do so much more and encourage others to join us in the process. That achievement is thanks to our Green Capital Partnership and all of the Bristol communities who have embraced our journey so far and worked together with the City Council and Bristol 2015 to make bold steps to face the challenges ahead."
Ljubljana in Slovenia now takes over as European Green Capital for 2016.