A major move into export markets has helped Bristol-based advanced engineering specialist Stirling Dynamics lift annual revenues past the £10m mark for the first time in its 30-year history.
Overseas sales have grown to now account for more than 82% of turnover at the firm, a leading provider of complex technical engineering services and state-of-the-art control system technology to the global aerospace, marine and training and simulation markets.

The company enjoyed steady growth from its launch in 1987 to until 2014, when it took on private equity investment from Enact, an SME fund and part of Endless.
This provided the boost for the company to grow, despite the downturn in the European aerospace market.
A refreshed management team headed by executive chairman Mark Cook refocused its business development strategy by targeting both established and emerging markets. The result has been a turnover figure of £10.1m, up 34% on the previous year, with pre-tax profits up 86.5% to £1.2m.
Projects have included the design of flight-worthy systems for helicopters and fast jets.
Mr Cook said: "We demonstrably have world-leading technology products and services and are true innovators in the market. Our achievements in recent years make us the envy of our competitors here in the UK and worldwide.
"In the last year, we have focused on developing new flight-worthy technology, for example we developed and designed a hydro-mechanical primary flight control actuator for a client in South Korea.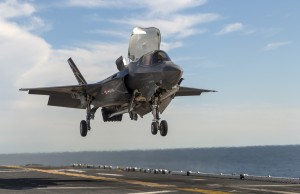 "Even as a relatively small company we are seen as a valued partner in the global marketplace supplying leading edge technology into aerospace and defence programmes all over the world, including active side sticks and throttles to Lockheed Martin's flight simulators for the F-35, (pictured) the world's most advanced fighter jet."
Mr Cook said the focus on improving its performance had occurred on all fronts, including profitability, cash generation, investment in infrastructure, business development into international markets – notably in the USA and Far East – and retention of existing key customers.
"Our comprehensive three-year plan, which is designed to keep us at the forefront of developing active control technologies whilst making inroads into emerging global markets, demonstrates these trends will continue for the foreseeable future," he said.
The uncertainty over Brexit was being managed successfully by the firm through maintaining a strong and growing order book outside of the EU, said Mr Cook.
"This is demonstrated by the fact more than 80% of our turnover is now made up by exports outside the EU.," he said.
"Maintaining and developing long-term strategic relationships with these customers is imperative and will underpin all our focus for the coming years.
"By any standard we have witnessed a remarkable turnaround from just a few years ago which is testament to the hard work of everyone connected to Stirling."