Nine firms from the Bristol area are going head to head to win the title of the happiest workplace in the West of England.
Triodos Bank, Signature Recruitment, Heat Recruitment, Ghyston, Signs & That, PES, Springfield Papers, ISL Recruitment and Shiner – 2015's winner – are competing against five other businesses from across the region for the accolade.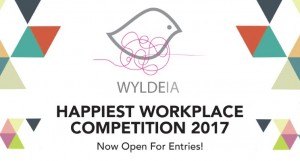 Now in its third year, the Happiest Workplace competition attracted a record number of entries from enlightened businesses based around the West.
It is staged by Bristol-based workplace and interior design consultancy Wylde IA to recognise firms that go the extra mile to ensure their staff are cheerful and fulfilled. 
The award ceremony takes place later this month when an overall regional winner will be announced along with winners from Bristol, Bath and Gloucestershire. 
Wylde IA director Maxine Bennett said: "This year has been the best yet. We've had a fantastic selection of different organisations enter our competition to find the happiest workplace in the South West. 
"We've seen entries from large well-known companies alongside smaller businesses and start-ups. One thing they have in common, though, is a genuine interest in the happiness and well-being of their staff and a desire to create the best working environment possible."
Since the competition closed at the end of August, the team at Wylde IA has been busy visiting shortlisted companies to find out exactly what makes South West businesses so happy.
Bristol recruitment agency ISL co-director Alan Furley said: "We are lucky to have access to a great pool of talent in the South West and we have tried hard to make sure the working environment for our team is as good as it can be. 
"We are thrilled to have been recognised for this by making the prestigious shortlist for the finals of the Wylde IA Happiest Workplace competition. We know how high the bar has been set in previous years and the competition will be tough so it's great to be in the mix."
Victoria Walker, lead consultant at Signature Recruitment added: "The team and I are chuffed to bits to be shortlisted for the Happiest Workplace competition. Loving what you do is so important to quality of life and I feel lucky to say that I do. We have a strong culture at Signature and I'm proud to be a part of it.  We have everything crossed that we will win!"
They hope to emulate the success of last year's overall South West winner – national recruitment agency Rethink's Bristol office. Judges found it an energising and bright workplace with natural daylight and a relaxed, fun atmosphere – a far cry from the traditional, high-pressure, target-driven recruitment agency approach.
The winner of the 2017 Wylde IA Happiest Workplace Competition will be crowned at an awards ceremony in Bristol on October 19.
This year Wylde IA has joined forces with seating company Boss Design, carpet manufacturer Milliken, interior products company Vescom and iconic lamp manufacturer Anglepoise; all of which have donated prizes for the winner.
The Happiest Workplace competition is supported by Bristol Business News and its sister titles.