Bristol's innovation hub Engine Shed has celebrated its first year by revealing that it has created 128 jobs and contributed £8m to the West of England's economy.
The building, a unique collaboration between the University of Bristol, Bristol City Council and the West of England Local Enterprise Partnership (LEP), aims to stimulate economic growth in the region.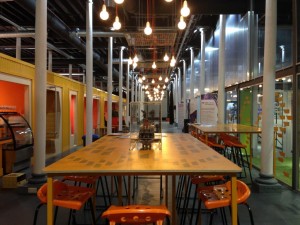 Over its first 12 months it had achieved a five-fold return on investment, its driving force director Nick Sturge told guests at its first anniversary party.
Twenty SETsquared companies are based at Engine Shed with a further 44 using the business centre's resources and facilities including hot desks, breakout spaces and meeting rooms.
Bristol SETsquared members have raised over £33m of investment in 2014, and its members now employ 752 people, compared with 639 when SETsquared moved into Engine Shed.
In just one year, Engine Shed has driven significant growth from Brunel's original train station, once Bristol's gateway to the world, having opened its doors, once again, as the city's new enterprise hub to drive inward investment, create jobs and encourage a new generation of high growth businesses.
The Grade I listed building built by Brunel in 1841, had a £1.7m transformation ahead of being officially re-opened a year ago by cities minister Greg Clark with Mayor of Bristol George Ferguson and Professor Sir Eric Thomas, Bristol University Vice-Chancellor.
Its prime location makes it one of the world's most connected enterprise hubs, acting as a 'shopfront' for potential investors in the region. Experts predict it will generate 5,000 high-value jobs in the next 15 years in the high-tech, creative and low carbon sectors.
The building is managed by the University of Bristol which has located its award-winning SETsquared business incubator, with a third of the space dedicated to premium serviced offices for its early-stage technology businesses. Other tenants are the LEP, Invest Bristol & Bath and WebStart Bristol.
LEP chief executive Barbara Davies said: "Relocating our staff to the Engine Shed has been a great move for us. It's a perfect location to meet our key stakeholders – Government representatives, business, local authorities and universities. It is a welcoming building to visit with a hive of activity, and plenty of places for people to meet and do business."
Matthew Cross, head of inward investment at Invest Bristol & Bath, added: "Engine Shed is a flexible, inspiring space for businesses in the high-tech, creative and digital, and low carbon sectors, offering a perfect environment within which to grow and work collaboratively. The success of this incubator has been a key factor in helping Invest Bristol & Bath to create more than 1,200 jobs in the region since its inception. The hub has housed major inward investment successes such as Somo, the world's largest independent mobile solutions company, and leading online takeaway service, Just Eat, on their arrival in Bristol."
WebStart Bristol, founded by Mike Jackson, has had a very busy first year of operations with twenty startup companies receiving £300,000 of initial investment from WebStart alongside a programme of intensive mentoring and practical assistance. Subsequently many of the companies have gone on to raise further funding totaling £794,000 and begin to build out their teams adding to the 39 founders with a further 18 staff.
This rapid growth wouldn't have been possible without the support, network and sense of place that the Engine Shed provided from day one.
Brunel's boardroom suite of meeting rooms for hire have seen several networks base themselves here including BrisTech monthly meetups, TechSPARK Techie Breakies, weekly CodeHub Bristol hack nights and Low Carbon South West meetings. BrisTech a group of technically-minded people meeting up once a month for beer, pizza and informative talks about new and interesting things that can be done in the world of computer programming. Their members said "The support of the Engine Shed and their resident companies has allowed BrisTech to reach even more people and showcase some of the region's greatest tech speakers."
Engine Shed has also hosted and facilitated two Silicon Gorge investment events, showcasing startups from across the region to angel and institutional investors from London, the North East and Bristol & Bath.
Members of the Business Lounge now include the four universities in Bristol and Bath, Bristol Media corporate members, Institute of Directors and have been pleased to welcome new members Business West Initiative. It's a great collaboration space for academics, entrepreneurs, innovators, investors and business leaders to interact.
A public lobby provides an information point and innovation showcase 'Platform 14' to highlight the enterprise activities taking place across the West of England and has so far hosted "Connecting.." an exhibition by MA Curation students at UWE and "Research Impact" from the University of Bristol.
Next year's schedule includes unveiling of the plans for the Temple Gate road system redevelopment, the Bespoked UK Handmade Bicycle Show and GrowBristol – an exciting experiment in aquaponics for urban growing. In line with its goals of inspiring the next generation of tech entrepreneurs, Engine Shed worked with My Future My Choice to host visits from 700 primary school children throughout the summer.