Bristol enterprise hub Engine Shed is to reopen its doors from Monday, August 3, offering visitors socially distanced meeting and work places and new flexible office packages for start-up and scale-up tech businesses.
Located in one of Bristol's most iconic buildings next to Temple Meads railway station, Engine Shed boasts four historic meeting rooms, three event spaces, two coworking spaces and 18 private or shared offices.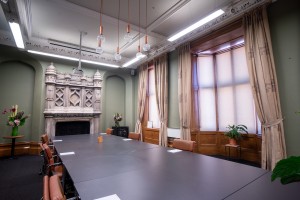 Since opening six years ago with a mission is to stimulate sustainable economic growth by supporting business, inspiring young people to get involved and showcasing the exciting opportunities that exist in Bristol to the public and potential inward investors, Engine Shed has become a catalyst for change in the city by bringing entrepreneurs, businesses, academics, students and the wider community together.
It is these face-to-face discussions and productive planning and workshop sessions that many businesses have missed during lockdown.
Fortunately, Engine Shed has the space for individuals and small groups to start coming together again to meet in a Covid-19 secure way.
Meeting rooms, pictured top, are available to hire for up to 16 people at an introductory discount rate of 25% off for non-members and 50% off for members.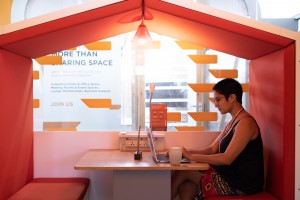 Participants can also join meetings remotely with the Engine Shed offering a high-spec experience with AV and hosting support.
Visitors can also book a booth, pictured right, or table in the Members' Lounge to work individually or meet up to two other people.
A reduced monthly rental rate is being offered for Engine Shed's coworking workspace The Interchange, pictured below, which includes use of the Members' Lounge and discounted meeting room hire.
Start-up or scale-up tech businesses can benefit from new flexible office packages, combined with business support from Engine Shed's resident incubator SETsquared Bristol, subject to eligibility.
Head of Engine Shed Marty Reid said: "We are truly excited about reopening our doors.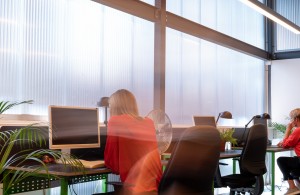 "Engine Shed is a building that thrives on the diverse network of people that connect in the space, from entrepreneurs and innovators to business leaders, professionals, academics and students. 
"We look forward to supporting people to work together, which is at the heart of what we do."
Engine Shed is collaboration between University of Bristol, Bristol City Council and the West of England Local Enterprise Partnership.
Last year it reinvested £150,000 of revenue into projects to drive long-term sustainable and inclusive growth in the local ecosystem, attracted more than 30,000 visitors, including 1,000 school pupils, and hosted 1,200-plus events.
To make a booking at Engine Shed, visit www.engine-shed.co.uk/using-engine-shed