Bristol-headquartered national law firm TLT has advised on three major deals across the renewable energy, financial services and housebuilding sectors.
TLT's corporate team helped complete a second deal for London and Cheltenham-based renewable energy company Innova while a cross-firm team advised digital challenger bank Starling Bank on its £50m acquisition of specialist buy-to-let mortgage lender Fleet Mortgages. 

The firm also advised Kent-based Town and Country Housing on its partnership with Legal & General Modular Homes to acquire a site for it to develop 153 modular homes.
Innova's sale of its 3.7MW portfolio of 57 rooftop-mounted solar PV assets to London-based Octopus Renewables represents an important milestone for the firm as it aims to achieve an attractive exit for its investors following the aggregation of a 65MW portfolio of UK solar assets over the past four years.
Last year TLT advised Innova on the acquisition of a number of the projects in the target portfolio, including the £30m refinancing of its portfolio of UK rooftop and ground-mounted solar PV projects.
The firm also advised on Innova's acquisition of a 5MW operating solar plant powering the largest soft drink bottling facility in Europe.
Corporate partner Antonia Silvestri led the TLT team, with support from corporate solicitor Hannah Wilson and real estate solicitor James Johnson. The team advised on the corporate transaction documents and provided due diligence support in respect of corporate, real estate and tax matters.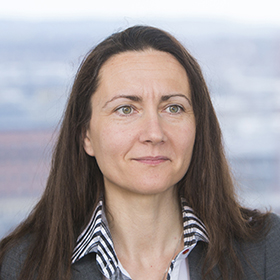 Antonia Silvestri, pictured, said: "Our long-term relationship with Innova and prior in-depth knowledge of their portfolio meant that we were well attuned to their approach and were able to work quickly and effectively to support them with this transaction.
"The sale of this portfolio represents an important milestone for them and also demonstrates the continued health of the secondary market for accredited UK clean energy projects, which provides an effective mechanism for investors to extract profits at the operational stage of those projects.
"It's clear that small-scale decentralised energy will continue to be crucial in getting more renewable capacity built in the UK and distributing the electricity generated locally, to help improve energy security and efficiency while also improving sustainability, and we expect to see increasing investor interest in this area."
London-based Starling Bank's acquisition of specialist buy-to-let mortgage lender Fleet Mortgages is part of a wider plan at the bank to expand lending through a mix of strategic forward-flow arrangements, organic lending and targeted merger and acquisition activity.
Hampshire-based Fleet Mortgages focuses on providing mortgages to professional and semi-professional buy-to-let landlords and has originated £2.3bn of mortgages and experienced zero credit losses. It currently has around £1.75bn of mortgages under management.
Starling will become the sole funder of future originations, with Fleet Mortgages able to build on its successful lending operation by accessing Starling's growing deposit base.
TLT led on all legal aspects of the acquisition, which included the negotiation of the overall transaction terms and working closely alongside Starling and its other advisors to ensure that the bank's key objectives were achieved.
The TLT team was led by corporate partner Alice Gardner, who drew upon expertise from across the firm's disciplines to complete the transaction.
The team included partners Rich Hughes and Peter Carney and legal directors Tom Ward and Catharine McDonald (banking), associate Luke Thorngate-Davies and solicitor Amy Tough (corporate), partner Esther Smith (employment), partner Robin Penfold (financial services regulation) and partner Mark Braude (tax).
TLT's work with affordable homes provider Town and Country Housing involved its acquisition of the land, construction contract and associated construction documents for the scheme in Broadstairs, which will be funded by Homes England.
The TLT team was led by partner Sarah Hale, along with support from associate Andrew Russell (construction) and legal director Fergus Charlton (planning).
The homes will be developed using modern methods of construction and have been designed to achieve an Energy Performance Certificate (EPC) 'A' rating, a standard met by only around 1% of new and existing dwellings in England & Wales.