Bristol's economy could get a boost when tolls on the two Severn bridges are scrapped later this year, according to city business leaders – but the first impact could be more pressure on its already congested roads.
The two crossings came into public ownership earlier this week, prompting an immediate cut by the government in VAT payable on the tolls.
Both bridges will become free to use by the end of this year, the government has vowed. That will trigger more cross-border business and boost Bristol's economy, according to James Durie, the chief executive of Bristol Chamber of Commerce & Initiative at Business West.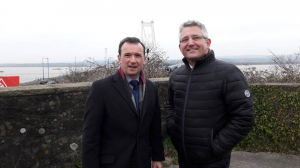 He joined the Secretary of State for Wales Alun Cairns on Monday morning at one of the crossings to market the ending of tolls.
He said: "Business will be pleased to see that the Secretary of State has gone further than the price cut originally promised by the Chancellor in March 2016 and has decided to scrap the Severn Bridge toll altogether by the end of the year.
"A significant barrier has been lifted giving the business of South Wales and South West England the chance to work and trade together more, and it is encouraging to see that the UK Government is being proactive in engaging with business communities across both our neighbouring regions."
He admitted there were "some real concerns" about the strain in the short term on the road and motorway infrastructure on both sides, but particularly on the Bristol side as more people are likely to choose to live in Wales and commute into Bristol and the West of England.
"We will be certainly be working with the Secretary of State and his team on ensuring infrastructure improvements are prioritised," said Mr Durie.
"More broadly, this change gives fresh new impetus to cross-border collaboration between the Bristol, Newport & Cardiff city region corridor as set out in the Great Western Cities report published in 2016."
And we look forward to the Cross Border Growth Summit taking place on January 22. For the West of the UK we can and should be making our clear case together and ensuring we are part of the national growth debate.
"Our economy operates globally and we know there is a serious appetite among business leaders and political decision makers on both sides of the Severn in terms of working together as neighbours to stimulate mutually beneficial business and economic growth for UK plc."
Tolls are now £5.60 for cars instead of £6.70. Vans pay £11.20 – down from £13.40 – with £16.70 for coaches against £20 previously.
It will be the first time since the first Severn Bridge opened in 1966 that the toll has been cut.
Pictured: Secretary of State for Wales Alun Cairns, left, with James Durie, chief executive of Bristol Chamber of Commerce & Initiative at Business West