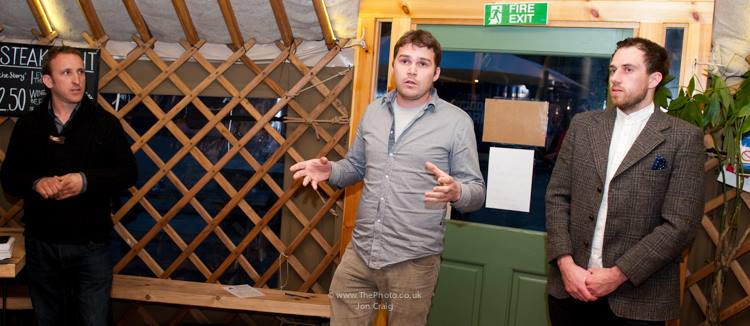 Pictured: Eat Drink Bristol Fashion founders at this year's launch, from left, Luke Hasell, Josh Eggleton and Nick Roberts. Photo by Jon Craig www.joncraig.co.uk
Eat Drink Bristol Fashion, the celebration of Bristol's high-flying food and restaurant scene, has announced that some of the South West's top chefs will cook in the festival this year.
The event, which returns to its iconic tipi village in Queen Square between May 1 and 18, will also increase its emphasis on 'field to fork' high-quality, sustainably-sourced food.
The festival was launched at Eat Drink Bristol Fashion's Yurt Lush restaurant and bar at Creative Common, Temple Meads.
Director Josh Eggleton, head chef and co–owner of multi–award winning pub the Pony & Trap in Chew Magna, said: "We have some outstanding guest chefs this year who epitomise the strength of the food scene across Bristol and the South West."
"Bristol is a really creative city and a leader in culinary excellence so this year we have brought these guys from around the region in to cook alongside some of the city's most exciting chefs such as Toby Gritten and Romy Gill.
"This really is a unique event that brings a unique collection of award winning chefs together for those after a gastronomic experience. For those after something more relaxed, we have our 'British tapas' menu which is accessible to all."
The festival gets underway with a unique collaboration between two-star Cornish chef Nathan Outlaw and TV chef Valentine Warner on May 2.
Emphasising the depth of talent further West, culinary heavyweights including Simon Hulstone and Paul Ainsworth will also host their own nights while Jack Stein from The Sea Food Restaurant in Torquay will bring this celebrated event to an end on May 17.
Keeping things ship-shape and Bristol fashion, the Pony & Trap – the Michelin-starred pub and mainstay of the event – will host its evening with Mr Eggleton in the kitchen on May 3. Up next, Bristol's favourite culinary brothers, Peter and Jonray Sanchez, will serve up some amazing food theatre on May 5.
Another newcomer to the tipis, Richard Davies will also cook on May 16. Davies is head chef at The Manor House in Castle Combe, Wiltshire, and is a regular on BBC Two's Great British Menu where he has served Olympic Banquets and 'Lenny Henry' themed deserts.
Eat Drink Bristol Fashion director Luke Hasell, who manages a 500-acre organic farm in the Chew Valley, added: "Eat Drink Bristol Fashion hinges on collaboration and this is what makes the event so special. It is great to see the South West working together to offer a totally different experience for everyone that visits the tipi village."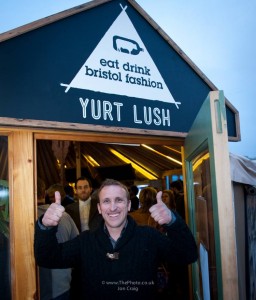 Fine dining tickets are now on sale online from www.eatdrinkbristolfashion.co.uk
Pictured: Luke Hasell at the launch party at Yurt Lush. Photo by Jon Craig www.joncraig.co.uk