The importance, challenges and potential pitfalls of branding gave entrepreneurs and representatives from more than 150 organisations food for thought at this morning's annual Bristol International Balloon Fiesta Business Breakfast.
A panel discussion – chaired by former BBC Radio Bristol presenter Steve Le Fevre – considered how and why people buy into brands, their attitudes to what sits behind them, brands and business practice transparency, and social media's role in building – and destroying – a brand. 
Joining Steve on the panel were Rob Law, creator and CEO of Bristol-based children's ride-on suitcase business Trunki, Peter Haigh, managing director of Bristol Energy, and Nick Davies, founder of social platform Neighbourly – also based in Bristol, pictured. 
The lively debate focussed on the intense scrutiny on a brand's purpose in the age of social media and ethical culture and green credentials in addition to it making a profit.
The event at Ashton Court Estate was hosted by regional law firm Thrings for the fourth year in a row, in association with business organisation Business West.
Guests watched a spectacular early-morning ascent of more than 100 balloons, pictured, before getting down to business.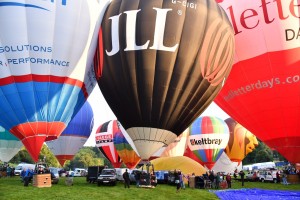 Colin Stratton, partner in Thrings' commercial property team and head of its Bristol office, said: "It was a real privilege to be able to host the business breakfast once again in the glorious surroundings of Ashton Court. It was great to see so many people in attendance and, thanks to the good weather, we were able to enjoy a spectacular mass ascent of balloons.
"It was the perfect opportunity to acknowledge what a great city we live in and Bristol's importance to the regional and national economy. It also provided a chance to celebrate some of the region's most successful consumer brands."
One of the city's iconic and best-loved cultural gatherings, the four-day Bristol International Balloon Fiesta is Europe's largest free ballooning event. Now in its 39th year, it attracts more than 250,000 people and injects as much as £15m into the Bristol economy every year.