Bristol is showcasing its role in leading the UK in driverless vehicle technology this weekend with public demonstrations of two groundbreaking projects that harness city-developed innovation.
Three of the nine UK research projects into driverless cars – or Connected and Autonomous Vehicles (CAVs) – are based in Bristol or heavily dependent on expertise from the city.
Pivotal to these projects is the world-leading Bristol Robotics Laboratory (BRL), which is backed by both the University of Bristol and UWE. But also involved are Fusion Processing, the Bristol-based sensory technology firm and law firm Burges Salmon, which is investigating the legal aspects of driverless vehicles.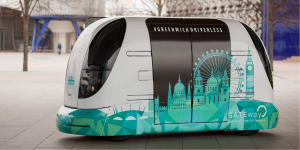 To demonstrate how city-based developments are helping shape the future of transport, Bristol City Council and the BRL have joined the Festival of What If run by At-Bristol Science Centre this weekend to stage public displays in Millennium Square that showcase the latest technology developed by two of the projects – VENTURER and GATEway. 
The events will focus on the future of transport – with experts predicting automated vehicles will usher in as big a revolution as the change from horse-drawn carriages to motorised vehicles more than 100 year ago. The event represents a first for the VENTURER consortium, led by engineering group Atkins, as it partners with the GATEway (Greenwich Automated Transport Environment) project, led by TRL and funded by government and industry.
A driverless GATEway 'pod', pictured – with a sensory system developed by Fusion Processing – will give rides around a closed off section of Millennium Square ahead of it entering service at the 02 Arena in Greenwich, where it will transport passengers between a hotel and the performance venue.
Eventually the pods, which are based on an original design by Bristol firm Advanced Transport Systems and have been used at Heathrow Airport, will travel alongside cyclists and pedestrians around the Greenwich Peninsular, including linking with a housing development and the Emirates Air Line cable car across the Thames. 
The pod has been equipped with a state-of-the-art control system with 3D imaging and location sensors developed by Bristol-based company Fusion Processing. These sensors enable the pod to navigate and avoid obstacles without the assistance of a driver. The public will be able to watch and engage with a demonstration of the technology. 
Lee Woodcock, Global Product Director – Intelligent Mobility at Atkins, lead of the consortium, said: "VENTURER has been running for just over two years now and we are very excited to be sharing some of our findings with the people of Bristol.
"In particular we are pleased to be collaborating with the GATEway project to showcase their driverless pod at this event. We are sure that the event will help encourage everyone to become more interested in what the future of transport holds for them." 
The VENTURER project, based in the Bristol and South Gloucestershire region, and GATEway, based in the UK Smart Mobility Living Lab in the Royal Borough of Greenwich, London, have similar objectives.
TRL technical lead for the GATEway project Simon Tong said: "Driverless vehicles are going to transform the way we move goods and people around cities. We would like to thank At-Bristol Science Centre for hosting GATEway's first Fusion-powered driverless pod before it leaves Bristol for its new home in Greenwich and I hope that this event will help people understand more about connected and autonomous vehicles."
Bristol is also the base for the FLOURISH £5.5m three-year research project that is investigating the potential ways older people and others with assisted living needs will engage with CAVs.