Three firms from the Bristol area have won coveted Queen's Awards for Enterprise, with one of them – the firm behind the innovative Rockit portable baby rocker – collecting two in different categories.
N2M, which trades as Rockit and designs, manufactures and markets sleep aid devices for babies and toddlers, is one of only seven of the 232 award recipients to be double winners.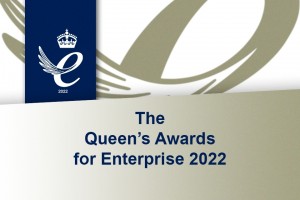 It achieved its pair in the international trade and innovation categories while Neighbourly, the award-winning platform that helps businesses make a positive impact in their communities by donating volunteer time, money and surplus products, collected its award for innovation and Digital Yacht, which makes specialist marine electronic navigation and communication products, secured its for its overseas sales.
N2M launched its leading product, the game-changing Rockit portable baby rocker, in 2017 and has now sells it in more than 40 countries.
Rockit inventor and co-founder Dr Nick Webb, pictured below, left, with co-founder and director Matt Dyson, said: "I invented our first product to help my own daughter to sleep when her pram stopped moving.
"All our products, including the Rockit stroller rocker, have innovation at their core and are now sold all over the world, so it is particularly satisfying to win both the innovation and international trade awards."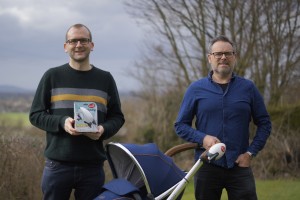 Matt Dyson added: "It is a fantastic achievement to be honoured with two Queen's Awards, especially given the fact that we are such a small team and have to turn our hands to all aspects of the business, from design innovation through to marketing, sales and logistics."
The firm, based in Flax Bourton, is no stranger to awards, having won multiple a number over recent years, including the prestigious Design Council Spark Award, an A' Design Award and a multiple FSB Celebrating Small Business Awards.
Nick and Matt were also crowned 'Start-up Entrepreneurs of the Year' at the Great British Entrepreneur Awards in 2021.
They have also been named Export Champions by The Department for International Trade.
Neighbourly, which was set up in 2014, has developed an innovative digital platform that connects thousands of community projects with companies wishing to make a difference.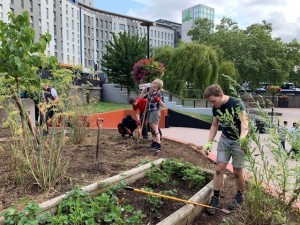 It enables large businesses to develop measurable and scalable programmes to benefit the communities in which they are based.
Unlike traditional corporate social responsibility (CSR) programmes that tended to support a small number of national or international charities, the Neighbourly platform gives businesses access to thousands of vetted small charities and community causes working at a hyper-local level to tackle a broad spectrum of societal and environmental issues and themes, pictured.
Companies can track, measure, and quantify their impact and be fully transparent about the action they are taking to meet their CSR and social value commitments in an authentic way, thereby building consumer and employee trust.
Digital Yacht, which is also based in Flax Bourton, began trading in 2011 as a designer and manufacturer of specialist marine electronic navigation and communication products, primarily for the recreational boating industry but also for fishing, workboat, naval and commercial shipping applications.
Its products are add-ons or accessories for products made by overseas marine electronics companies.
It supplies products direct to end users via web and mail order and is growing an overseas dealer/installer/distributor network.  It already sells to around 70 countries, primarily the US, France, Germany, Canada and Australia.
Overseas sales grew by more than 40% over the past three years and now represent almost 75% of total sales.
Rockit, Neighbourly and Digital Yachts follow in the footsteps of acclaimed Bristol winners of the Queen's Awards, including ethical bank Triodos Bank, exhibitions, events and experiences company Ignition, mid-air touch technology innovator Ultrahaptics and Babbasa, the youth empowerment organisation that was one of only seven winners in the Promoting Opportunity through Social Mobility category last year.
This year 232 businesses from a wide range of sectors and every part of the UK have received the coveted awards – 141 for International Trade, 51 for Innovation, 31 for Sustainable Development and nine for Promoting Opportunity through Social Mobility.