Bristol Airport bosses are confident of securing a direct scheduled service to the US again as they start to work on a new masterplan which will shape its continued growth for the next two decades.
The airport has grown rapidly over recent years, with annual passenger numbers reaching a record of 8m this summer.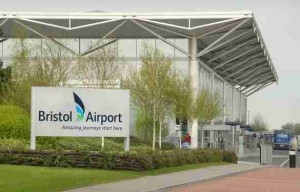 New routes are being added at a rapid rate, including the start this week of its first direct service to Stockholm and the announcement of flights this winter to the Swiss town of Sion, centre of a highly popular skiing region.
But there has been no direct service to the US since Continental Airlines ended its New York service in 2010 after operating it for five years.
The service had originally been highly profitable for the US carrier – it was estimated to have earned it $1m a month – but following the global banking crisis of 2007 and a massive slump in business travel, it became loss making and was axed along with a large number of US-bound flights.
Now airport chiefs say the numbers stack up again as a new generation of US airlines look for transatlantic destinations. They hope to be able to name a carrier for direct flights within the next two years.
Also key to a revived link with the US – along with other long-haul destinations in the Caribbean, Middle East and possibly even parts of the Far East – is the success of the chartered flights to Florida and Mexico this summer and the announcement of flights to the Dominican Republic next year.
The flights are operated by holiday giant TUI using the Boeing 787 Dreamliner – which the airport says demonstrates the potential for even more destinations beyond Europe in future. 
Bristol Airport's runway is certified for Code E aircraft, a category which includes Airbus's A330 as well as the Dreamliner.  Airport bosses say that combined with its strong growth – it is the only major UK airport to have increased passengers every year since 2009 – suggest that long-haul routes are a realistic prospect again. 
More than 100,000 passengers also travel between Bristol and long-haul destinations via major international hubs including Amsterdam, Brussels, Dublin, Frankfurt and Munich operated by carriers such as Aer Lingus, Brussels Airlines, KLM and bmi regional.  
Major investment in the South West, including the development of Hinkley Point C in Somerset, is expected to further boost demand for business travel to and from the region, while initiatives to promote inbound tourism, such as the recently announced Regional Gateway partnership between Bristol Airport and VisitBritain, are set to increase the South West's profile in overseas markets. 
Bristol Airport business development director Nigel Scott said: "The strong short-haul network available from Bristol is a real asset to the region we serve, but we know businesses in the South West are also looking beyond Europe for new opportunities to trade. 
"That is why we are working hard with existing airline partners to increase the frequency of services to major hubs, as well as exploring the potential for more direct long-haul services east and west. A level playing field on rates of Air Passenger Duty remains vital to achieving these ambitions." 
Having invested more than £160m in new infrastructure and facilities since 2010, Bristol Airport is well positioned to serve passengers across the South West of the UK, and also provides a gateway to the region for international visitors. 
The airport, which has been celebrating 60 years at its current site in 2017, is now considering how best to meet growing demand for air travel to and from the South West and South Wales over the next two decades with its new masterplan. 
It is now seeking the views of customers, employees, neighbours and other stakeholders to help shape the airport's vision for the future.
The new flights to Sion in the heart of Switzerland's southern mountain region will be operated by new airline Powdair. Flights will start on December 14 and will operate on Saturdays, Sundays, Wednesdays and Thursdays.