Bristol will become one of Europe's fastest-growing cities for job creation over the next three years with thousands of new posts in the digital and creative sectors, according to a new economic forecast.
Bristol is ranked seventh in a Europe-wide table for jobs growth between 2019 and 2022 – behind some capital cities such as Madrid and Amsterdam but outperforming others including Berlin and Paris.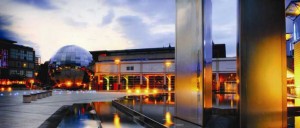 The city's employment growth rate of 3.5% in the research by Oxford Economics, also places it higher than Milan.
The report shows that last year Bristol's job market growth of just under 2% was the sixth highest in Europe and greater than London or Manchester.
In the UK, Bristol will boast the third-fastest growing employment market in the period 2018-2021 with a rate of 5.3% – equivalent to 6.070 new jobs. That places it behind Manchester, in the number one spot, and Birmingham but above Leeds, London, Glasgow and Edinburgh.
The figures were presented to a gathering of Bristol property industry figures last night staged by the city office of international property group JLL.
The group's economist Jon Neale said Bristol's growth would have been even greater had it not had a large number of people working in financial services – an industry that will lag behind the growth of sectors such as tech and creative.
The upbeat outlook for Bristol was highlighted during the event, including the city's ability to attract businesses and people working in tech from other locations.
JLL lead director in Bristol, Simon Peacock, said the fourth industrial revolution driven by the tech sector would see the next few years define which cities become the destination for choice for tech businesses.
"With Centre for Cities predicting that in 11 years 21% of all current jobs won't exist, cities are in 'an arms race with other city regions' to attract these businesses in," he said.
"As big companies, as well as niche firms, grow their tech jobs, they are being forced to rethink where they are located and seek out cities where they can access the skills base needed.
"In Bristol, we do well in attracting and keeping the talent these tech firms so badly need, but we must have better transport links and convince our councils and communities of the need to grow and change if we want our cities to secure this prize and prosper.
"There are two things that are essential for the future success of Bristol city centre, or indeed any town or city centre; they are strong civic leadership and a vision for the future."
That meant changes to the retail sector ushered in by a raft of shop closures should be seen as an opportunity, not a threat, he said.
"In Bristol, we need more housing, we need investment in infrastructure and more places for people to work. It's a no brainer to capitalise on the opportunities changes to our retail landscape and transport hubs bring to ensure our city's future prosperity."