Bristol-based Cubex, the property developer behind the city's Finzels Reach regeneration project, has appointed a new team member as it looks ahead to further opportunities.
Sarah Trahair-Williams, pictured, has joined as development manager having worked for the past five years as a senior project manager at international project management consultancy Turner & Townsend's Bristol office.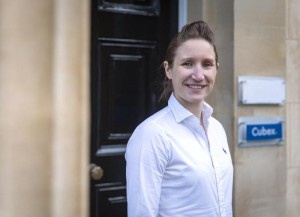 Her key projects at the firm included Dyson's campus at Malmesbury and IAAPS, the University of Bath's world-leading automotive testing facility now under construction on the Bristol & Bath Science Park.
She started her career at Faithful + Gould after achieving two degrees – in architecture from the University of Nottingham followed by commercial management and quantity surveying from Loughborough University.
Sarah joins Cubex at an exciting time for the business as it looks forward to a number of potential new schemes across the South West and South Wales. The appointment follows the promotion of Elgan Jones, previously development manager at Cubex, to associate director.
Cubex and investor PfP Capital last year formed a strategic partnership to bring forward development opportunities, initially around the former industrial area alongside the M32 close to Bristol city centre – now known as Frome Gateway – with future opportunities expected across the region over the longer term.
Cubex is also pressing ahead with the construction of phase two of Finzels Reach – the award-winning new city centre neighbourhood on the former Courage Brewery site that has attracted widespread recognition as one of the city's most successful regeneration projects.
One of Sarah's key initial focuses will be on Halo, phase two's landmark office scheme that has already attracted international law firm Osborne Clarke's Bristol office as its first occupier two years ahead of its completion.
Sarah said: "Cubex's reputation precedes itself as a leading Bristol developer with an impressive track record of delivery in the city and across the region, so it was a no brainer for me to join its highly experienced team.
"Cubex focuses on creating not just buildings, but thriving mixed, balanced communities and places that really work for people – and that ethos was a key draw for me."
Cubex executive director Gavin Bridge said: "Sarah brings with her excellent expertise and experience in project management that will be invaluable to Cubex, allowing us to focus on future development opportunities and grow the business.
"With Elgan now stepping up to become associate director, having made a very valuable contribution to the business over the last couple of years, most notably in the acquisition of the former Avon Fire & Rescue site in Bristol for phase two of Finzels Reach, we are now in prime position to take forward our exciting plans for the future."