More than 100 new plant species could be introduced to the former Gardiner Haskins site in Old Market by developer First Base to underline its commitment to supporting Bristol's ecological emergency.
The London-based developer, which announced the plan to coincide with Earth Day, said it aims to provide a new home for wildlife on the city centre's doorstep while also creating new green spaces for residents and visitors.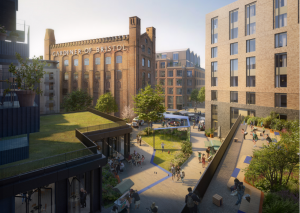 First Base recently submitted its planning application for a new £175m district on the high-profile site, which includes the Grade II-listed Soapworks building.
The plans include 140,000 sq ft of modern workspace, 166 new homes – including affordable housing – an apart-hotel, cafes and restaurants as well as open public realm.
First Base has chosen a selection of native plants in partnership with the site's landscape architects Gillespies which will attract birds, insects and mammals such as hedgehogs, butterflies and bees as well as improving Old Market's overall air quality.
Native species will allow the plants to thrive in the UK climate and ensure local wildlife can easily settle in the area.
There will also be 12 new trees, including field maples and a Juneberry. As well as providing homes for birds and insects, the trees have been chosen for their high Urban Tree Air Quality (UTAQ) score, which will play a part in reducing pollution levels in the urban environment.
First Base's plans also include sedum roofs and wildflower gardens to attract butterflies and bees. To honour the heritage of the site, there will be three planting areas offering a variety of natural scents, paying homage to its history of soap making.
First Base project director Lucinda Mitchell said: "We have listened to feedback from local people and have made sustainability a priority at Soapworks.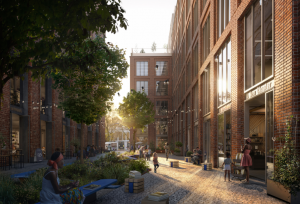 "We are pleased to provide 100 new plant species which will significantly impact on the air quality, attract wildlife and improve biodiversity and positively contribute to the health and wellbeing of people in and around the development."
Gillespies senior landscape architect Alison Baxter added: "Introducing up to 100 new species of plant into such an urban area has been a very exciting task for us. The species will be selected with a strong focus on increasing biodiversity and pollination.
"Species such as verbena bonariesnsis and perovskia are particularly attractive to butterflies and bees. We look forward to seeing our plans come to life."
Over the next few months, First Base will be revealing details of its Sustainability Charter which will be used to track and monitor how the development is impacting the local environment.
The company has recently been awarded a Planet Mark certification for its efforts to reduce carbon emissions and increase biodiversity at its sites in London and Brighton.