A Canadian development company has been linked with the acquisition of one of the largest industrial sites in the Bristol area – and could even make an audacious attempt to lure Elon Musk's planned electric car 'gigafactory' there.
The Epta Development Corporation (EDC) of Vancouver is reported to have exchanged contracts to buy the former Avlon Works site at Avonmouth, pictured.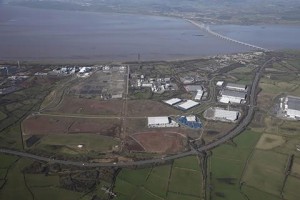 The 100-acre plot was previously housed as a major pharmaceutical manufacturing plant, originally operated by drugs giant AstraZeneca.
While EDC is understood to be looking to develop up to 2m sq ft of warehousing on the site, reports in the property press claim that it says it could tweak its plans to meet the requirement linked to Tesla for a 4m sq ft gigafactory.
The government is said to be working with Tesla and its founder, billionaire Elon Musk, to identify possible locations for the electric car plant – which would be the largest factory ever built in the UK.
Mr Musk is reported to have flown to the UK last week to check out an unspecified number of sites shortlisted for the project. These are said to include the Gravity industrial park, a 635-acre 'smart campus' being developed on the former Royal Ordnance Factory, near Bridgwater.
If EDC went ahead with its acquisition of Avlon Works, it would be its first venture into the British property market.
Property Week claims a source close to the business told it the developer was keen to expand in the UK and that it was interested in meeting the Department for International Trade (DIT) to discuss its requirement for a 4m sq ft electric car battery factory site.
"The EDC thinks it would be a worthwhile discussion for it to add the Avlon Works site to the list of gigafactory candidates, given its unique suitability for manufacturing, for example its access to sufficient power," the source is reported to have told Property Week.
Avara Avlon Pharma Services, which bought the Avlon site from AstraZeneca fell into administration in February last year.