Former head of technology at Deutsche Bank Labs, Charles Radclyffe, has relinquished his role at the global financial institution to lead NetKernel, an innovative fintech firm disrupting the financial services world from its HQ in Bristol.  
Charles's role at Deutsche Bank included the research and evaluation of emerging technologies, particularly artificial intelligence, automation, and high-performance computing.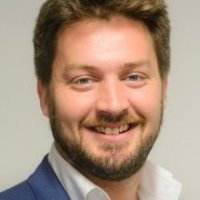 During his 18 months at the bank, Charles, pictured, evaluated more than 200 solutions from start-ups to major vendor solutions.
When invited to join NetKernel as CEO, Charles was already impressed by the depth of the firm's technology.
He said: "I met nearly 200 start-ups in the last few years, and while many of them will go on to be great successes – it was the scale of the engineering at NetKernel which attracted me to their product.
"Many in the banking industry have been excited about the power of distributed computing, and this is evidenced in the recent euphoria around Blockchain. When I saw that NetKernel could not only deliver distributed computing solutions at enterprise scale, but also had a track record of doing so, I knew I had to join the team."
NetKernel's technological breakthroughs solve the scaling problem with dynamic-programming, a technique which delivers impressive performance advantages – but has, until now, been too complex to roll out across organisations.
Now large organisations can perform complex computation much faster and without the bespoke optimisation previously required. Applications of this technology range from IoT, robotics, and automation: its energy efficient core enabled systems rely on limited bandwidth or limited processing capability to conserve battery consumption, thereby advancing miniaturisation.
NetKernel founder Peter Rodgers, who is also known as the father of the 'microservices' movement, said: "Charles is exactly the person we were looking for: experienced in bringing emerging technology to market in industries such as financial services, which is reluctant to adopt cutting-edge solutions. His appointment is a key part of accelerating our growth to bigger markets."
As Charles argued in his recent TEDxBristol talk, the rise of robotics, automation, and artificial intelligence will remake industries. He believes NetKernel will become the operating system for automation – and believes it's critical for his success as an entrepreneur in this field to be facing head on the ethical dimension of the issues thrown up by tech.
Charles believes that as NetKernel will power the next generation of organisations that deliver artificial intelligence, automation and robotics to their markets, he will be able to deliver on his role as a digital ethicist also – helping bring about the benefits of automation but in a controlled and responsible way.