Accountancy group Deloitte is to relocate its South West office after signing a deal with Bristol developer Cubex to take space in its flagship Halo building.
Deloitte, which currently has more than 600 staff spread across two offices in Rivergate and Bull Wharf, will occupy 22,500 sq ft over two floors in Halo, pictured.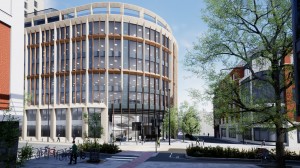 The 116,000 sq ft office development now under construction at Finzels Reach will also be home to the Bristol base of international law firm Osborne Clarke, which is taking 74,000 sq ft. Cubex expects to be able to announce lettings for the remaining space soon.
When open, Halo – which is on the site of the city's former fire station – will be one of the UK's most sustainable office buildings.
Deloitte said as it was due to exit its current buildings early next year, the move would not just support its commitment to become net zero but also reflect its recently introduced hybrid working model.
The new office will offer a range of spaces to help fuel creativity, wellbeing and generate more collaboration across the business, it said.
The pre-let with Cubex follows Deloitte's continued investment in Bristol, including expanding its technology consulting capabilities with the launch of its specialist hub – TechWorks – as well as the recent promotions of one partner and seven directors along with the arrival of its latest cohort of almost 60 graduates and BrightStart apprentices.
Deloitte South West senior partner Martyn Gregory, pictured, said: "The way we work has changed and the lease expiration on both our offices in Bristol has provided an opportunity to re-model our workspace to meet our needs now and in the future.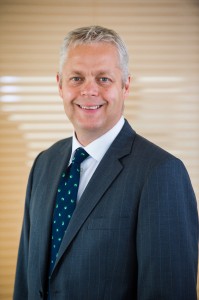 "We have invested significantly in our South West business and the deal with Halo Bristol not only reinforces our commitment to the region and local communities, but also our commitment to provide a sustainable and inspiring place where our people can work as the business grows."
The decision to move from two offices into a single, sustainable building follows the principles set by Deloitte's head office at 1 New Street Square in London, which has become the largest office in the world to achieve leading certifications for being both an exemplar green building and one designed to enhance the wellbeing of its people.
It also aligns with the firm's 'WorldClimate' programme, which is responsible for its commitment to becoming net zero and was a major factor in choosing Halo.
Halo, which will feature cutting-edge digital connectivity, is due to complete this summer.
It is already the first office building outside of London to achieve BREEAM Outstanding certification against new sustainability assessment criteria and an EPC A rating.
Using smart technology, the office space will have fully automated smart controls, energy efficient lifts, intelligent air quality management, rapid electric car charging facilities and almost 150 secure cycle spaces.
This is reflected in the building achieving a 'best-in-class' Platinum Cycling Score rating and WELL Core Building certification, one of the first buildings in the UK to do so.
Deloitte UK head of sustainability Gavin Harrison added: "Decarbonising our real estate operations and transitioning to 100% renewable electricity is not only essential to meet Deloitte's WorldClimate targets, but is also supportive of our regional practices' commitment to local net zero strategies.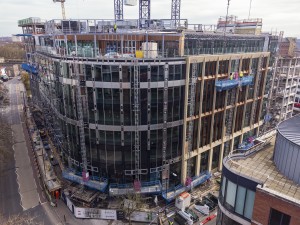 "Our real estate portfolio has a large impact on sustainability, so this is a key factor when leasing new workspaces."
He also said Halo's sustainable credentials, coupled with its close proximity to the city centre and public transport network, made it the ideal choice for both the firm and its staff.
"Creating sustainable offices that balance our responsibility to the planet with a focus on wellbeing makes our working environments unique and reiterates our commitment to our people," he added.
Halo forms a key part of the second phase of Finzels Reach, the mixed neighbourhood on  the former Courage Brewery site by Bristol Bridge and the Floating Harbour, which is fast-becoming a hub for professional and creative companies.
Cubex director Peter Walford said the firm was thrilled that Deloitte would be moving to Halo as the building set a benchmark for sustainability, wellbeing and digital connectivity in office design.
"It's very exciting to see this landmark building approaching completion and phase two of Finzels Reach becoming a reality," he added.
"This deal is an important step in continuing the regeneration of this significant city centre brownfield site in Bristol's medieval heart. We are looking forward to confirming occupiers for the remaining space very soon."