Seth Turner, a senior manager in Deloitte's Bristol-based private client tax team, has been recognised as one of the UK's rising stars in his field for the second year in a row.
Seth, pictured, is one of four Deloitte employees from across the UK to make it into this year's Private Client Practitioner annual Top 35 Under 35 list, which identifies young talent among private client advisors.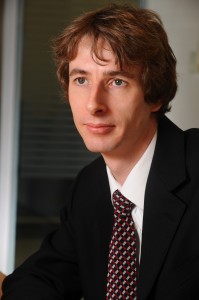 Seht was nominated by Samantha Hart, Deloitte's private client team leader in the South West. His name was selected from hundreds of nominations for the final list by a panel of industry experts.
Samantha said: "I'm delighted that Seth has been officially recognised as a leading light in the world of private client advisors once again. It's testament to his exemplary tax knowledge and clear understanding of clients' priorities and needs, skills which he draws on to provide the very best advice to clients at all times. Seth also invests a lot of time and effort in developing more junior members of the team and has been invaluable in shaping and growing such a strong practice in the South West."
Having joined the Deloitte's Bristol office in 2004, Seth has built up a strong portfolio of clients across the South West, ranging from high net-worth individuals and entrepreneurial businesses to offshore trusts and landed estates.