Long-serving managing partner of Bristol-headquartered TLT David Pester has started a new role at the national law firm as head of strategic growth.
After 19 years as managing partner, David Pester, pictured, will now work with TLT's leadership team on a strategic growth programme to support existing clients and develop new client relationships.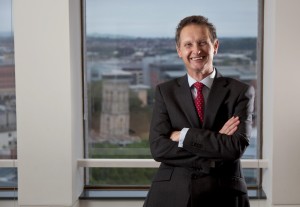 Describing the new role as 'critical' – with an immediate focus on the response to the impact of the Covid-19 pandemic – the firm said it would involve him working across its sectors, groups and locations to understand client need and market opportunity and chart a course for sustainable growth.
He will also advise on client requirements for ongoing programmes such as TLT's FutureLaw innovation programme – which is developing new solutions to client challenges in areas such as LegalTech and near-legal consulting – and its international strategy, along with new services lines and capabilities.
TLT managing partner John Wood, who replaced David Pester last month, said: "This is a critical new role for the firm, both in the immediate term – as we look to understand how we can support our clients through the different stages of the pandemic – and as we look to the future.
"David has built strong foundations from which we are well placed to develop our capabilities and grow our client base. His in-depth knowledge and understanding of the firm, our clients and how the market is moving will be a great asset in delivering that work."
David Pester added: "I am really looking forward to working with our teams and clients to deliver continued growth and innovation at TLT. We have a great history of seeing where the opportunities are for the firm and delivering against that. I am excited to see what we do next.
"My immediate focus is making sure we continue to understand how our people, processes and technology can support clients through the current pandemic. I am extremely proud of the innovative support that the firm is delivering to clients in these challenging times."
David Pester is a corporate finance specialist by trade and is recommended as an expert by independent UK legal sector guide Legal 500.
He has been with TLT since its inception through the merger in 2000 of established Bristol firms Trumps and Lawrence Tucketts – where he qualified in 1987.
He was first elected as the firm's managing partner in 2001 – which made him one of the longest-serving law firm heads in the UK legal market. Only four major UK law firms are known to have had managing partners serving for approaching two decades.
Under his leadership, TLT has grown rapidly from its Bristol roots to employ more than 1,000 people across its seven multi-jurisdictional offices.
He speaks regularly on management issues and is a national committee member of the Managing Partners Forum, a member of The Law Society Law Management Section, and an elected member of the CBI South West.
Last July he was awarded an honorary doctorate from the UWE Bristol for his contribution to business and the law.