Touring theatre company The Lord Chamberlain's Men celebrates its 15th birthday by returning to Bristol with a performance of one of Shakespeare's most popular and best-loved comedies, A Midsummer Night's Dream, this evening on Brandon Hill. 
Shakespeare's rustic and supernatural comedy is packed with some of his most famous characters – from Puck, the merry wanderer of the night, to the hilarious Bottom via the warring lovers whose true loves' course never did run smooth.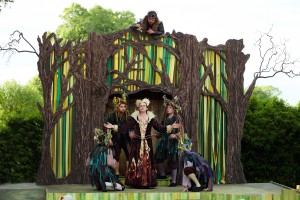 The play is being performed at 70 venues this summer, including some of the UK's most significant, historically important and visually stunning castles, cathedrals and stately homes over 17 weeks.
With more than 80 performances, the tour is one of the company's biggest yet. The Brandon Hill performance is set in one of the city's most opulent green spaces and features a backdrop of Bristol's Cabot Tower.
Audiences are encouraged to bring picnics, a chair or a blanket and a glass of something chilled.
Acclaimed for its stylish and accessible productions The Lord Chamberlain's Men has spent the past 15 years wowing audiences up and down the country in a trademark style.
Artistic director Peter Stickney said the company has gone from strength to strength and continually raises the bar for standards in open air theatre.
"To reach our 15th birthday is no mean feat. We work hard to bring you the best production every year but really the pleasure is ours, we feel privileged to be able to tour to 70 stunning locations and meet wonderful people on the way," he said.
"Reaching this milestone is a testament to the great work of the many actors and creatives who have worked with us, but we truly couldn't do any of this without the support of our wonderful venues and amazing audiences who make this such a joy.
"We played to almost 30,000 people across the summer last year and we hope that this year will see us entertain even more. I really hope that you enjoy our magical production of this timeless classic and here's to the next 15!"
Additional dates near Bristol include:
Tyntesfield: Saturday July 27 – Sold out
Bishop's Palace, Wells: Sunday July 28
Dyrham Park: Friday and Saturday August 2 and 3
For full tour details visit www.tlcm.co.uk