Bristol businesses can get free training in the latest digital skills during a series of workshops, talks and panel discussions put on by the BBC and creative industry partners.
Digital Cities Bristol 2018 next week will bring together businesses and organisations with more than 30 events, including interactive VR experiences and networking opportunities.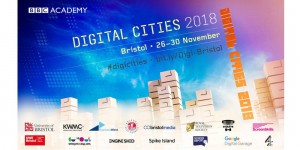 The sessions are all free of charge and are open to anyone interested in the creative industries – from seasoned professionals to those just starting out. Workshops include writing for social media, building apps and shooting video on your phone.
Attendees can get hands-on with new technology, clued up on the latest in digital content and can get creative with a range of masterclasses and workshops by the BBC, Bristol University, Knowle West Media Centre, Bristol Media, Business West, Bristol Council, RTS West of England, Google Digital Garage and many more.
This year there is a special focus on developing and diversifying the region's creative talent pipeline, with sessions across the week focusing on where the jobs are and how career starters and changers can engage with Bristol's most dynamic employers.
How To Get Your Dream Job brings together experts and new employees to provide an insight into the growth areas, skills and employment potential across the entire local industry, from graphic artists to CRM campaign managers.
The Digital Cities initiative is the brainchild of the BBC Academy, the training arm of the public service broadcaster.
BBC Academy project lead Mark Jacobs said: "Digital Cities Bristol represents a fantastic opportunity to promote cross-sector collaboration and networking to help foster new partnerships and enable CPD and new skills development.
"It is only made possible by the generosity of local partners who provide their time, resources and venues in order to create free of charge and accessible events across the city. "
Open Doors runs from Tues to Friday (November 27 to 30) and is a rare opportunity to join small groups visiting successful creative & digital businesses across Bristol for a look behind the scenes.
The week also places a strong focus on emerging tech, and includes exclusive workshops on Future of Production, VR/AR, data jams, live coding and artificial intelligence (AI).
On Monday, BBC Bristol is hosting a day of practical workshops – from smartphone skills to innovative tech for audio and visual productions. In the evening We The Curious hosts an evening content, giving you the chance to experience cutting-edge, 360 content in the unique environment of the planetarium!
On Tuesday Engine Shed is hosting an afternoon of smart tech sessions, including Sauce, Build Your Own AI Applications and a live coding Algorave, in partnership with the Jean Golding Institute.
On Wednesday Google Digital Garage will be hosting free digital business skills workshops at City Hall and Our Data Bristol invites you to pitch for one of three £1500 awards to use Bristol's Open Data platform to improve an area of community life – be it homes, transport or connectivity.
In the evening RTS West of England and ScreenSkills join forces to present the hugely popular Futures Festival at Watershed,  aimed at final year students, recent graduates and those ready to take their first steps in the television industry.
Meanwhile the theme of AI and immersive technology continues with Bristol VR Labs' afternoon seminar. In the evening Bristol Health Partners continue exploring AI's impact on the way we live and work with a special panel hosted by Ben Goldacre.
On Thursday KWMC hosts a day of digital skills with BBC Academy and Grrl Games Video Game Design, followed by an exclusive KWMC event examining Human Bias in AI and if we can fix it.
On Friday the week rounds off with the Pervasive Media Studio's lunchtime talk on Virtual and Extended Reality, and a chance to network and hear from about the latest research insights in augmented and virtual technologies at SWARVR's third official meet-up.
There are also weekend activities tomorrow and Sunday for those wanting to take their children along to hugely popular DigiMakers, or for grown-ups wanting to get creative with data at the Bristol Open Data Jam.
School pupils from the South West will also be invited to take part as BBC School Report and Boom Satsuma deliver sessions in digital journalism and creative technology based careers.
Head of regional programming for the South West Stephanie Marshall said: "Digital Cities Bristol is an unmissable opportunity for anyone working in digital and media in the region. From free practical training, to meeting people working at the cutting edge of creative and tech, there's something for everyone. All sessions are free of charge and tickets are now live for the majority of events which are running right across the city. Be sure to reserve your place before they're fully booked."