Regional accountancy, tax and advisory firm Bishop Fleming has increased its number of partners to 43 with the promotion of corporate finance director David Lock.
David, pictured, left, with Bishop Fleming managing partner Andrew Sandiford, has extensive experience in corporate finance with a lead advisory, banking, debt and equity background.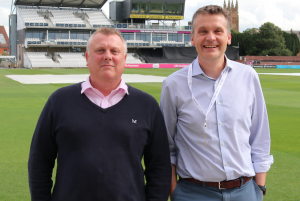 His appointment follows two other recent partner promotions at Bishop Fleming, which employs more than 500 staff across its eight offices in the South West and West Midlands. Two new directors have also been appointed as the firm continues to grow.
Prior to joining Bishop Fleming in 2021, David worked in a range of organisations across the South of England, including 'big four' accountancy firm PwC and in the Bristol office of the Bank of Scotland, where he was part of its integration and acquisition finance team. He also has experience providing advice to owner-managed businesses.
David, who is based in the firm's Bristol office, said he was delighted to be given the opportunity to become a partner at Bishop Fleming after two very rewarding years at the firm.
"The team culture, drive and focus I have witnessed is compelling, helping the firm to attract the very best people at all levels and providing a solid foundation for the firm's continued growth," he added.
"I am very much looking forward to many more years of playing my part – providing high-quality advice to a high-quality and demanding client base."
Bishop Fleming managing partner Andrew Sandiford said David's promotion aligned with the firm's strategy of growing its professional services to its clients and bringing talent up through the business.
Bishop Fleming, which delivered fee growth of 15.5% in 2022 to £38.4m, is currently ranked fifth in the Accountancy Age UK Mid-Tier Power Rankings and fifth in the inaugural UK Accountancy Age Mid-Tier Power Index.
It is also certified as a Great Place to Work and is in 14th place in the UK's Top 100 Apprenticeship Employers rankings.
As well as Bristol, it also has offices in Truro, Plymouth, Torquay, Exeter, Bath, Cheltenham and Worcester.