Aerospace giant Airbus is to reduce production at its Filton plant for three weeks and extend the Easter holidays for its employees as it becomes the latest major UK manufacturer to take drastic action in the face of the coronavirus pandemic.
The group employs 4,000 people on its Filton site, where it designs wings for all Airbus aircraft as well as landing gear and fuel systems.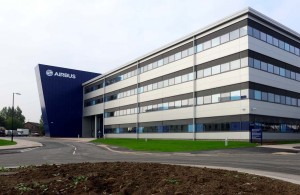 Production at sister wing assembly plants at Broughton, North Wales – where around 6,000 people work – and Bremen, Germany, will also be cut back.
The group said it planned to put in place extra health and safety measures at the factories. Some production will continue, it said, in line with public health.
The move comes as Airbus partially resumed production and assembly work this week at plants in France and Spain following a four day shutdown.
Airbus said it was "continuing to evaluate [its] production flow based on the adapted ways of working which reflect the new health and safety measures".
Some Airbus employees have already been working from home where they are not directly related to production.
Wing parts designed and built at Filton, Broughton and Bremen are delivered to aircraft assembly plants in Toulouse in France, Hamburg in Germany and Seville, Spain, under Airbus's Europe-wide manufacturing process.
Airbus said it had reviewed production following the short closure of these plants last week and the limited operation of their assembly lines this week – resulting in a knock-on effect on its supplier plants.
In a statement, the group said: "As a result of that review, Airbus has decided to adapt the production activity in the wing plants for the next three weeks.
"This means that the production and corresponding activities for support to production of the wing plants in Bremen, Filton and Broughton will be reduced, with an extended Easter holiday implemented at Broughton and Filton and a reduced working week at Bremen.
"The sites will remain open during this period and will continue to ensure wing deliveries to the final assembly lines, the receipt and control of materials and components from the supply chain, building and installation maintenance, critical administrative support and preparation for activity restart.
"Airbus is maintaining business continuity across its global industrial stream. As a leading industrial company, Airbus needs to continue its activities to support the global crisis efforts, support customers, suppliers and the global economy."
While the global aviation industry has been rocked by the coronavirus pandemic – with around a third of all flights grounded and many airlines already warning of the dire financial costs – aircraft manufacturers are seen to be in a much better position.
Airbus has a bulging order book for its A320 short-medium haul family of aircraft which its factories have been increasing production to cope with over recent years. This has compensated for a lack of orders for its long-haul, twin-aisle aircraft such as the A330 and A380 superjumbo.
Aviation industry analysts say long-haul operators are being particular hard hit by the clampdown on international air travel in response to the coronavirus pandemic – with an expected knock-on effect on orders for large aircraft.
Airbus recently said it had $32bn (£26.4bn) in liquidity to sustain its operation through the crisis.
Many UK factories have either closed – including those run by car manufacturers – or have introduced new working methods to allow for social distancing.