Two of Bristol's top commercial property figures are predicting strong growth for the city's economy this year as confidence returns to its recession-hit property market.
Tim Davies, head of Colliers International's Bristol office, forecasts that the city's important financial and banking sector will return to its 2008 level within three years, especially as London's property market threatens to overheat, forcing finance firms to look outside the capital for expansion.
And Philip Morton, from CBRE's Bristol base, believes the city will bounce back faster than most others in the UK due to its strong commercial base. He says investors are already looking to do deals in Bristol's commercial property market.
Their views chime with those of Bristol Mayor George Ferguson, who is championing the city on the international stage as a prime location for London firms fed up with spiralling property and wage costs and for foreign companies eager to break into the UK but deterred by the capital's costs.
Finance sector specialists at Colliers International are predicting Bristol will achieve an 8.1% increase in financial and business services jobs alone between now and 2016.
Mr Davies, pictured, said: "Even allowing for the downsizing in the public sector the picture suggests a strong return to job creation. By 2016 the regional centres will have generated enough new employment to offset the downsizing that occurred in 2008.
"The South West is third behind London and the South East in terms of growing business activity. The capital is getting so expensive that many institutions are looking a lot more at regional opportunities.
"This will prompt businesses to look further afield, especially at cities such as Bristol which has already seen a return to speculative development. There are clear opportunities for the refurbishment of existing stock as Grade A supply shortages begin to bite."
Mr Davies said the benefits would be spread out to locations along the M4 and M5 motorway axis including Avonmouth and North Bristol and not just in the city centre.
"There is no doubt we are looking far stronger than we were four years ago and the signs are we will remain in the forefront of the recovery," he said.
Bristol's first speculative developments since the recession took hold were now underway, he said, including the £35m, 100,000 sq ft, 2 Glass Wharf scheme at Temple Quay. These were key to encouraging business confidence.
"New occupiers are notoriously reluctant to commit off-plan, whereas Bristol will soon have some tangible developments for them to look at," he said.
"Those cities where speculative development is underway are likely to benefit from firm commitments from inward investors."
City centre office take-up last year was 42% higher than 2012 and a bias toward deals in the 25,000 sq ft and upwards bracket rather than a large number of smaller deals indicated the financial sector was emerging strongly from the downturn.
City centre take-up was close to 140,000 sq ft during each quarter last year, meaning the third quarter total was 36% above the five -year average and included five deals above 10,000 sq ft, compared with only two during the same period in 2012. The largest was the letting of 39,000 sq ft at Narrow Quay House to law firm Veale Wasbrough Vizards.
The largest Grade A letting was Barclays acquisition of 18,759 sq ft at Bridgwater House, Finzels Reach.
"We have the infrastructure in place – whether terminal, roads, rail or warehousing – to ensure the region benefits from the increased business coming our way," he said.
"We are already seeing a resurgence of the market rental and freehold figures that have been depressed for several years.
"This means that there are excellent investment opportunities in the market, especially with the national concerns that are seeking accommodation in the South West.
"With the likelihood of rental increases and a general undersupply of quality vacant stock there are opportunities for existing buildings to be refurbished, which could help address the imbalance between supply and demand."
Mr Morton believes all the groundwork that has been taking place in Bristol over the past two to three years has placed it in a strong position compared to other major regional centres.
"There is no doubt that we have been through an incredibly difficult five years and it has certainly been the harshest recession that I have experienced," he said.
"Although most commercial property activity came to a complete standstill in the aftermath of the financial crisis, in contrast to other regional cities Bristol has escaped relatively unscathed.
"We have one of the highest GDPs in the country outside of London, and there is still plenty of commercial activity taking place. There are definite signs that the commercial market is starting to return and we are starting to see some tentative inquiries from investors.
"Bristol has been doing all the right things in terms of getting the infrastructure in place and we were one of the first cities in the country to set up a Local Enterprise Partnership. The fact that we have an elected mayor who is very much on the side of the business community and has direct links to central Government is also a great bonus."
Mr Morton, pictured, believes that the upturn in the economy will open the way to exciting new opportunities.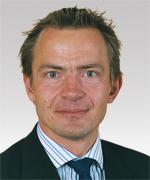 "There no longer seems any doubt that the economic picture is improving. Sooner or later the investors will return to the market and we have to be ready to make the most of the situation," he said.
"Bristol has lots going for it in terms of a skilled workforce, improved connectivity and a local authority which is open to new ideas and public project and has a strong leader. It should also be remembered that this is one of the best places in the country to live and people actually want to come here. When you add up all the various factors it makes the city a powerful proposition for potential inward investment. The next two to three years could be a very exciting prospect for Bristol."