Bristol businesses have been told how they can play a part in the city's biggest ever arts redevelopment project.
Bristol Music Trust, the charity behind Colston Hall, has officially launched opportunities to support the transformation of the iconic venue.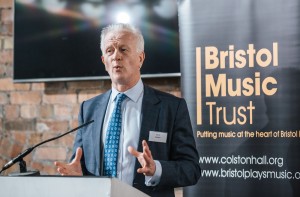 Bristol businesses recently gathered at Avon Gorge by Hotel Du Vin to hear about the opportunities as well learn more about the key role that arts and culture play in the city's economy.
They were told that now, more than ever, the delivery of culture and education programmes were becoming a shared responsibility between the public and private sectors.
The transformation of Colston Hall presented a once-in-a-generation opportunity for the city's corporate sector to support the creation of a world-class music venue and the delivery of an education programme that reaches 19,000 children a year in 92% of the city's schools.
The event was also used as a platform to celebrate the trust's existing corporate relationships and highlight how the strategic goals of the city's cultural institutions can align with corporate organisations to further strengthen the Bristol economy. The transformed hall is expected to contribute £20.6m to the UK economy annually, with £12.7m of this generated in Bristol itself.
Bristol-headquartered national law firm Burges Salmon is the latest business to work in partnership with Bristol Music Trust, supporting the £48.8m transformation through a major investment over three years in return for a wealth of benefits for its employees, including priority booking, discounts and a staff volunteering programme.
Bristol Music Trust chief executive Louise Mitchell said: "To have the support of Bristol businesses is wonderful and incredibly encouraging for the trust. We hope other companies will also see the benefits to themselves and the wider region and follow the lead of our corporate partners, like Burges Salmon in supporting this inspiring transformation.
"For us it's important that our corporate partners support our initiatives and programmes that best align with their businesses. This isn't simply a case of sponsorship; we want to build partnerships with the corporate sector that benefit both parties and help us deliver a world-class venue."
Burges Salmon senior partner Chris Seaton, pictured, added: "We're really excited to be involved in this transformative project and to have become a key sponsor of the major new redevelopment of Colston Hall, which is clearly destined to become a world-class music venue.
"We are delighted to support this fantastic project, particularly with the delivery of an education programme that will reach most of the schools in Bristol and help further strengthen the city's economy."
Existing corporate partners of Bristol Music Trust include advanced engineering group Renishaw, which is supporting the creation of a new music education suite by naming the space as part of the transformation of the hall's historic cellars.
Other supporters are global professional services firm Arup, whose engineers are playing a central role in the transformation of Colston Hall, Bristol private client brokers and asset managers Rowan Dartington through its corporate charity the St. James's Place Charitable Foundation, insurance broker Hayes Parsons and law firm DAC Beachcroft.
In addition, internal communications agency Home has created a campaign video and global accountancy group KPMG has also provided in-kind support in the creation of the economic impact report.
Bristol Music Trust can offer bespoke packages to suit business objectives, including exclusive event sponsorship, marketing opportunities, year-round corporate hospitality, corporate social responsibility opportunities and employee engagement programmes.
Colston Hall was the only major UK concert venue not to have been redeveloped in recent times before the current transformation programme started. Prior to that there had been no major refurbishment of the venue for 60 years
For more information on opportunities and the transformation visit www.colstonhall.org or email development@colstonhall.org