A new group to give Bristol's diverse night-time economy, including its bars, clubs and restaurants, a collective voice has been formed.
The Bristol @ Night advisory panel aims to ensure the vitality and diversity of the city's night-time activities are not only preserved but also supported to expand and flourish.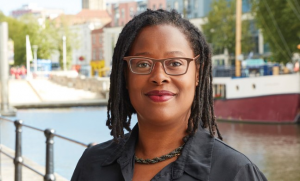 It has been launched amid unprecedented challenges to entertainment venues as a new wave of residential developments are built in the city centre. In some cases, long-established venues have been threatened with closure due to noise restrictions from developers.
Bristol @ Night will bring together people working across the city's unique and inclusive night life – from its entertainment venues and bars through to the emergency services.
It is chaired by lawyer Marti Burgess, pictured, who has been involved in Bristol's night time economy since the early 1990s and is co-owner of the city's iconic Lakota club.
Speakers from across the industry contributed their views and experiences and shared their priorities at the panel's launch at City Hall.
While the panel is independent from Bristol City Council, its members will be able to feed into existing policies and strategies.
Marti Burgess, who is head of corporate SME at Bristol law firm Gregg Latchams, said: "Bristol is a great city to live in and one of its best assets is its nightlife. It does not matter what age you are or what you are in to, Bristol caters for all with its great restaurants, bars, pubs and of course its fantastic nightclubs and live venues. 
"All of this is underpinned by our anarchic approach to culture and creativity which has resulted in our rich and diverse music scene. Long may it continue. I see this panel as an important step to ensuring that those of us working within Bristol night time economy are heard when big decisions are being made about the development of the city."
Council cabinet member for spatial planning and city design Cllr Nicola Beech added: "Bristol is a massively successful cultural city – the bar is already set really high. We attract a wide spectrum of people, offering a unique, vibrant experience to visitors and our own residents. Protecting that character and vitality amid rapid change is challenging and requires collaboration with those who have helped shape Bristol's successes so far.
"We are already taking positive steps forward as we review the council's Local Plan and introduce the 'agent of change' principle, incorporating a new responsibility for addressing the impact of noise on developers to ensure they are implementing suitable noise protection in new city centre homes.
"We want to see our night-time economy flourish in the face of that change and I am convinced establishing a collective, independent voice will give us the right foundation to build from. 
"This is not about creating a council led body; I hope this new panel will ensure wider voices are being heard on all matters concerning the night-time economy. We need to future proof our fantastic night life and put in place the right conditions for it to grow safely and authentically."