The Bristol office of national law firm Clarke Willmott has pledged to support a leading muscular dystrophy charity after the son of one of its partners was diagnosed with a form of the rare disease.
The office will take part in a range of fund-raising events over the next two years to support Duchenne UK's research work into treatments and a cure for the condition.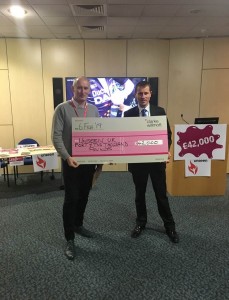 Duchenne muscular dystrophy (DMD) occurs in childhood and almost always affects boys, who tend to be diagnosed before the age of five. There are around 2,500 patients in the UK and an estimated 300,000 sufferers worldwide.
Clarke Willmott has already announced its first event to raise funds for Duchenne UK – a three-day, 100-mile trek called SWAY100 by staff, family and friends along the Samaritan's Way from Lynton in North Devon to the Clifton Suspension Bridge over this year's May Day Bank Holiday.
Duchenne UK co-founder and co-CEO Emily Crossley set up the charity after her eldest son was diagnosed with the disease. She said: "We are so grateful to Clarke Willmott for choosing Duchenne UK as its charity of the year for the next two years and we are very much looking forward to working with them."
Two families a week in the UK are told that their sons have Duchenne Muscular Dystrophy, a devastating muscle wasting disease that mainly affects boys.
Emily Crossley added: "We rely entirely on donations and we are in a race against time to find new treatments and a cure."
Clarke Willmott CEO Stephen Rosser, who is based in the Bristol office, said: "We are delighted to welcome Duchenne UK as our new charity of the year, which was chosen in response to the devastating news that our colleague Oliver Smedley's son has been diagnosed with DMD.
"We have all been in awe of the Smedley family's resilience in the face of this adversity and their support for Duchenne UK, which is committed to do all that it can to help those who are affected by this awful condition.
"Clarke Willmott is looking forward to getting involved with the charity and in turn doing all it can to help it achieve its goals."
Around 30 Clarke Willmott staff members are already limbering up to take part in SWAY100. Clarke Willmott director of business development & marketing Martin Palmer, who is organising the firm's  participation, said: "Any pain experienced over the 100 miles is nothing compared to the challenges faced by the Smedley family and those facing a Duchenne diagnosis, or indeed by the victims of modern slavery worldwide."
The firm's previous chosen charity was Bristol-based anti-slavery campaigners Unseen, for which it raised £42,000.