Regeneration of a derelict part of Bristol's Temple Quarter Enterprise Zone looks set to come a step closer next week following recommendation for approval by City Council planning officers.
The major Silverthorne Lane scheme also has the backing of the owners of Motion nightclub, which is on a neighbouring former industrial site. They had previously objected to the plans – presenting a possible stumbling block for the developers – over fears that residents moving to its new homes would complain about noise.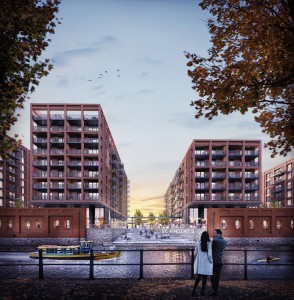 The scheme aims to create a new canal-side community in an area fronting onto the Feeder canal, close to Temple Meads railway station and the University of Bristol's yet-to-be built enterprise campus.
Much of the site includes derelict warehouses and has been inaccessible to the public for generations.
Feeder Estates, a specially formed partnership managed by London-based developer Square Bay, plans extensive areas of public open space with new pedestrian and cycle routes, cafes, shops and restaurants on the site, along with:
Office, employment and research space for the University of Bristol

An urgently-needed 1,600-place secondary school, to be called the Oasis Academy Temple Quarter, to address a shortage in places in east central Bristol

371 homes, including affordable housing

Nearly 700 purpose-built student accommodation units.
Since submitting its planning application a year ago, Feeder Estates has refined the proposals for the comprehensive redevelopment of the site with a team of development partners, coordinated by Square Bay, Bristol-based Alder King planning consultants and AWW architects.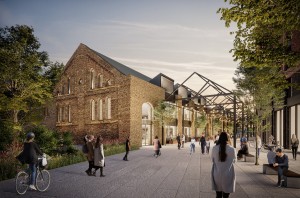 It the plans are approved at the committee, regeneration will go ahead on six plots spread across the site masterplan, include the new university building providing office, research and learning space to be developed on the westernmost part of the site, closest to the university's emerging Temple Quarter campus.
The mixed-use residential scheme is proposed by Bristol-based housebuilder Studio HIVE working in partnership with Atlas Land. Designed by AHMM architecture's Bristol team, this element will provide 371 new homes as well as employment space alongside extensive areas of public realm, transforming the former industrial site into a vibrant canal-side quarter.
A new 1,600 place secondary school and sixth form will be developed by the Department for Education and operated by Oasis Community Learning, a multi-academy trust already operating eight schools across Bristol.
The final piece of the development jigsaw will be accommodation blocks for 693 students. Designed by Bristol-based practice AWW, this will be delivered and managed by Future Generation, a specialist student accommodation developer behind a number of student schemes operating in cities across the UK and Ireland.
Feeder Estates said the development represented inward investment for Bristol of £375m in the first 10 years from planning consent and would create 4,335 additional jobs. 

Square Bay already has extensive experience in Bristol, including the award-winning regeneration of Brandon Yard in Bristol's Harbourside.
Square Bay director Tom Vaughan-Jones said: "We are delighted that officers have recommended our plans for approval. A huge amount of time and work has gone into refining our proposals in response to consultee feedback to bring forward the redevelopment of this complex site.
Our plans represent a very significant investment and the transformation of this site on the approach to central Bristol will send a powerful message that the city is very much open for business."
Feeder Estates said it had been aware of the potential impact of development on the future of Motion. The club is regularly hailed as one of the best in the world and is viewed as a vital part of Bristol's music scene.
"Conscious of the important cultural contribution Motion makes to Bristol's nightlife scene, it has been our aim throughout to ensure that the club can continue to thrive, forming a key part of the vibrant new canal-side quarter that our plans will create, " Feeder Estates said.
"As a result, we worked hard to agree conditions which will see us work collaboratively with Motion on an innovative package of measures to secure the future of the club alongside the regeneration of this part of east central Bristol.
"We are delighted that as a result of these conditions, Motion's management have withdrawn their previous objections and submitted a representation in support of our plans."
It also said it was aware that the delay in determining the planning application had caused "frustration and concern" for parents anxious to see the Oasis Academy Temple Quarter delivered as soon as possible.
"We hope that the decision of councillors on the Development Control Committee at next week's meeting will finally provide parents and young people in communities like Lawrence Hill with reassurance and certainty on the future of secondary provision in this part of the city", it said.