Product and service developers working in Bristol's fast-growing tech sector can now test their prototypes in a new city centre user research and user experience (UX) lab.
Opened by Bristol UX and service design specialists Mace & Menter, the lab, pictured, forms part of the firm's studio in the Arnolfini arts centre.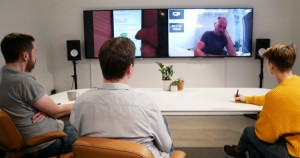 It has been purpose-built for conducting and observing qualitative research and usability testing.
Using a lab to observe how people use a digital product or service means companies can base decisions around future strategy and development on evidence rather than guesswork so the product has a higher chance of succeeding.
The lab consists of an interview room and a large observation room linked with high-quality audio and video streaming. Omnidirectional Shure studio microphones and speakers, as well as 4k cameras, 65-inch screens, help make up the comfortable and relaxed, researcher-designed environment.
Mace & Menter will also use the space to run its own research – carrying out face-to-face, in-depth interviews and usability tests – exploring a problem or a design concept with the people they are designing for.
Mace & Menter specialises in service design and user experience for complex services. The team works with organisations – such as the Cabinet Office, DCMS, Policy Lab, Scope and the V&A – that want to significantly improve the way people experience their services.
Mace & Menter co-founder and managing director Sam Menter said: "Our work is all about the experience of the people we design for, but also of the people we are working with.
"Experience is about so much more than what we deliver, it's also about the journey. When we were designing and building the lab, we thought carefully about both the participant and the observer experience.
"User research is fundamental to the way we work. We involve the users of a service in discovery and throughout the design process. Running research in a space where a wider group can observe means you get much more out of the work."