The ongoing shortage of prime office space available for occupation in Bristol city centre has resulted in a new record rent.
The deal on the office in Queen Square – details of which are still under wraps – has recently been completed and so is not included in the third quarter figures for take-up and rent levels in the city.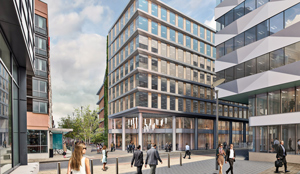 Landlords have been capitalising on the severe lack of new space for several years – and any built speculatively is snapped up straight away, often months before construction gets underway.
The current highest rent is £35 per sq ft, which was achieved just over a year ago at the Aurora building at Finzels Reach. Grade A office rents had risen by around 23% in a little over a year due to the shortage of space.
However, a raft of new schemes are now underway and scheduled to come onto the market next year, easing the plight of Bristol's many expanding businesses seeking more space.
These include the speculative 93,000 sq ft Distillery on Temple Way – part of Royal London's 393,000 sq ft mixed-used Glassfields scheme – and Nord Developments' 34,000 sq ft One Portwall Place.
According to the latest quarterly review of the office market by property agency Avison Young, these are expected to be followed soon by 110,000 sq ft Halo at Finzels Reach where Bristol-based developer Cubex recently received planning approval.
Also the fourth and final office development site in the Glass Wharf scheme in Temple Quarter was bought last month by London-based global office investor Tristan Capital which has said it will build it on a speculative basis – potentially delivering a major shot in the arm for the office market.
The 210,000 sq ft 4 building, pictured above, will be linked by a bridge to neighbouring 107,00 sq ft 3 Glass Wharf, which was pre-let to HMRC.
The Avison Young office market review, The Big Nine, reveals the Bristol city centre office market is looking forward to ending the year comfortably above the 10-year average take-up thanks to what will be the year's largest Bristol deal at One Assembly to BT.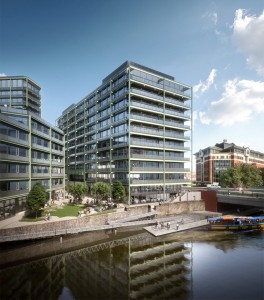 As reported by Bristol Business News, the telecoms group has agreed to occupy 201,000 sq ft of premium office space as the sole tenant in the 11-storey tower on Temple Way.
Construction work on the 11-storey tower, pictured, will not be finished until next year, with staff relocating there in 2021. 
BT has agreed a 20-year lease on the building – one of Bristol's largest office blocks when it is completed.
Avison Young said the deal reinforced the city's need for a healthy Grade A pipeline if it is to continue to attract major occupiers like BT and compete against the larger UK cities such as Manchester.

Third quarter activity in the city centre was led by three 10,000 sq ft to 20,000 sq ft transactions to financial services firms Aon, Hargreaves Lansdown and Rowan Dartington, which took 19,440 sq ft at Temple Point, along with a handful of 5,000 sq ft plus deals to technology companies.

Avison Young Bristol director Paul Williams said: "Despite a slow-down in office take-up during Q3 in the city, with a below average total of 184,000 sq ft recorded for the out-of-town and city centre markets, the underlying position is still one of rental growth and a continuing shortage of supply in the Bristol office market.

"Whilst city centre headline rents remained at £35 per sq ft, this has now been exceeded by a letting in Queen Square which sets a new benchmark for the city and the 200,000 sq ft pre-let of One Assembly to BT is a further significant boost to the office market.

"Although uncertainty remains over the likely outcome of the Brexit process, with strong fundamentals in place the prospects for Bristol into 2020 and beyond remain very positive."

He said some landlords were also refurbishing and upgrading offices in response to the spiralling trend for flexible working with some fitting them out and providing furniture.
One example is L&G's 7,000 sq ft The Landing in Redcliff Quay, which is under offer off with a premium asking rent of £38 per sq ft.

The key deal in the out-of-town market was 16,900 sq ft let to facilities management company Mitie at the Chocolate Factory, Keynsham, and there were two 10,000 sq ft deals at Bristol Business Park and Aztec West respectively to Stirling Dynamics and Evince UK.

The Big Nine report, which covers the nine major regional markets in the UK, showed a continued inward investment and relocation deals, boosting take-up nationally during the third quarter.