Bristol should be Europe's capital city for circuses, Mayor George Ferguson has said as he officially opened Creative Common – the unique collaboration that has put culture at the heart of the city's Temple Quarter Enterprise Zone.
The empty site near Temple Meads railway station has been transformed with the arrival of NoFit State Circus's iconic silver spac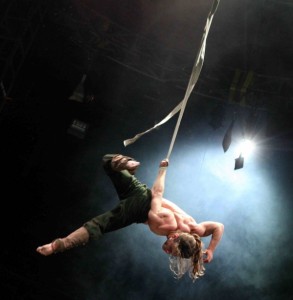 eship big top where the company is performing its spellbinding show Bianco.
The big top follows on from last year's successful circus tent but this year includes bars and cafes to widen participation and offer food and drink to rail passengers and workers from nearby offices. The project is collaboration between the Invisible Circus and Bristol City Council with support from Arts Council England and the Homes & Communities Agency.
Up to 100,000 visitors are expected over the nine months that Creative Common 2013 will take place. As well as circus and physical theatre, the site will host compelling independent cinema, interactive public art and exhibitions, thought-provoking debates, interviews and live music. It will create 58 full time jobs in the arts and feature 250 individual artists and performers.
Mayor Ferguson, who tomorrow will be in France to hear whether Bristol is to be European Green Capital in 2015, said: "Bristol is the UK city for circuses but I want it to the European capital for circuses.
"I'm impressed that Creative Common has popped up again on this site, which on July 4 last year was where I launched my mayoral campaign.
"A lot has happened since then and I'm delighted that this site is once again being used to put arts and culture at the heart of this enterprise zone."
Bristol is already home to Circomedia, the renowned centre for contemporary circus and physical theatre based in the former St Paul's church in Portland Square. The building houses the UK's second-largest indoor trapeze rig and aerial facilities and has become an established performance arts and corporate venue.
Many of the talented NoFit State performers trained at Circomedia.
The Creative Common 2013 season has been directed by Esther O'Callaghan OBE, the former Manchester International Festival associate producer.
Tickets for Bianco start at £14 and can be bought at www.creativecommon.co.uk or by calling 0333 222 9000. The show runs until June 23.