Bristol's reputation as an innovative centre for advanced computing has been strengthened by microchip giant Intel's decision to select the University of Bristol as its first UK centre for parallel computing.
The US tech group is establishing a network of Intel Parallel Computing Centers (IPCCs) across the world with leading high-performance computing (HPC) research groups to pioneer the efficient use of powerful modern computer systems.
These centres will pioneer work into harnessing the power of high-performance computing for use in research and industry.
Intel chose the University of Bristol in recognition of its HPC group's world-leading research into the efficient use of many-core parallel computer architectures, and its leadership in driving open-parallel programming standards.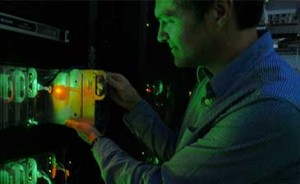 The university will collaborate with Intel to develop parallel algorithms and optimise several of Bristol's HPC applications for Intel's latest parallel computer architectures, such as the Intel Xeon Phi Coprocessor.
Senior Lecturer in High Performance Computing and Architectures in the Department of Computer Science, Simon McIntosh-Smith, said: "Our HPC is recognised as champion of open standards for parallel programming including OpenMP and OpenCL. We will also be collaborating in HPC training, and will leverage Bristol's exciting undergraduate and masters course in high performance computing.
"We look forward to working closely with Intel to help design the next generation of highly parallel HPC applications, and in training the next generation of parallel programming experts."
Intel director of marketing for technical computing group Joe Curley added: "The University of Bristol combines both a demonstrated ability to innovate and optimize parallel applications using open, industry-standard techniques with a focus on practical education of the next generation of application developers.
"Intel is pleased to expand our Intel Parallel Computing Center program by collaborating with the University of Bristol, to innovate and optimize applications in the field of computational fluid dynamics and molecular dynamics to benefit research and industry in Europe and worldwide."